Orlando is thousands of miles from Israel, but the tragedy there has deeply saddened me. We Israelis feel your pain as if it were our own.

— Benjamin Netanyahu (@netanyahu) June 12, 2016
Then there's the State Departement's hack spox:
Matt Lee, one of the few remaining real journalists left, takes the State Dept. hack to task for treating Israel different than it does any other Western state attacked by islamonazis.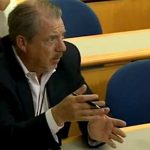 MATT LEE, AP: Last one. Do you recall — and this is going back to first — my earlier question, which I don't think you answered, which is — do you recall ever feeling the need to advise, to warn, to urge governments in Europe to use restraint as they respond, when they respond to terrorist attacks?
MARK TONER: I can't come up with an instance, no
.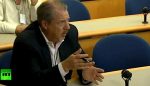 MATT LEE, AP: OK, so why is it — is the situation with the Israelis and the Palestinians just so unique that you think that it is required?
MARK TONER: Well, again — so a couple of thoughts on that, actually. First of all, these are — this is an ongoing conflict that involves two parties.
MARK TONER: We don't want to see tensions exacerbated on either side, and we realize that when these senseless acts of violence and terrorism take place, that they only escalate tensions, understandably.
We want to see a diminution of violence — we want to see an end to violence, we want to see a diminution of tensions. With that understanding and that awareness, that we do comment on the actions that Israel has taken.
And frankly — and I'm not pointing the finger at anyone else, but if another country, we felt, were taking severe or draconian measures in the wake of some kind of attack, we might also comment. I'm not saying that this is that case, but I'm saying we might. You've actually done well. You forced me to answer a hypothetical.
NOTE: The SD's line of reasoning is simply indefensible.