When a morally honest muslim comes to terms with post-hijra Islam, it's decision making time, leading the person to either abandon faith altogether, or to seek out a new one. Now he really does have a price on his head, not only an apostate, but a Jew as well. All my best to him.
"I was disturbed by the rampant cruelty in my environment. Later, as a teenager, I studied the Koran and was appalled by how much violence it contained. We were taught how Muhammad, the founder of Islam, massacred thousands of people who refused to follow his path. We learned how Islam conquered massive cities by the power of the sword and spread its doctrine through wanton slaughter. The whole culture was soaked in blood. Then there was the anti-Israel component. We were instilled with a hatred of Israel and Israelis and taught to view them as monsters worthy of death. From early childhood we were trained to cut down every Israeli and settler and fight them to the death.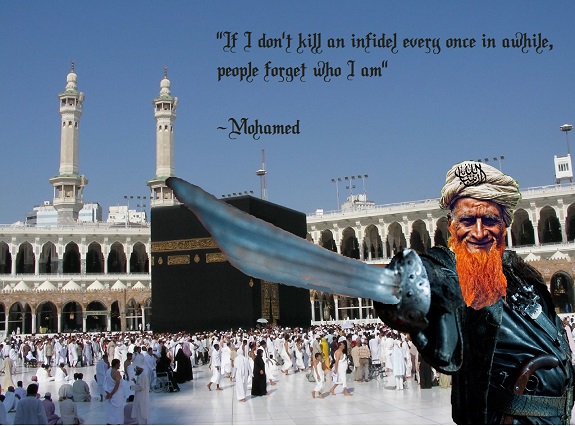 The Arab Informant
A Palestinian repudiates the Muslim culture of violence and almost loses his life in the process. Now he's becoming Jewish.
by Isaac Horovitz
Reprinted with permission from Ami Magazine.
This is the unbelievable story of Zahir Adel and his personal journey from the grazing lands of Nablus to the streets of Bnei Brak. A smiling, baby-faced man who speaks Hebrew like a native, he rejected the violent Arab culture he grew up in and served as an informant for the Israelis for many years, at great risk to his life. Many of the military actions he participated are still under wraps. Most fascinating, though, is that today he is an expert in Jewish law and has been preparing for his conversion to Judaism for the past several years.
"I was born in 1978 in Azun, a little village near the Tapuach Junction between Shechem and Ariel," he begins. His father was a clothing dealer, and Zahir's 14 siblings tended to his flocks of sheep. He received the standard Islamic education in school, but even as a child he felt as if he didn't fit in. "I was a regular kid to all appearances, but I always shied away from violence. It really bothered me but I couldn't escape it. Violence was such an integral part of our lifestyle. Every time we didn't listen to our father or displeased him in some way we were beaten. Whoever didn't behave perfectly in school received a beating. Every minor quarrel between families or clans in neighboring villages morphed into bloodshed. Female family members who didn't toe the line were brutally murdered by relatives. Petty arguments evolved into horrific killings. If you skipped a prayer at the mosque or said something offensive, you were in for it.