Because when they do genocide its for the glory of Allah, so it's "different".
Besides, the non-muslim is not allowed to criticize the muslim…..a double bad.
German genocide vote 'has no value': Erdogan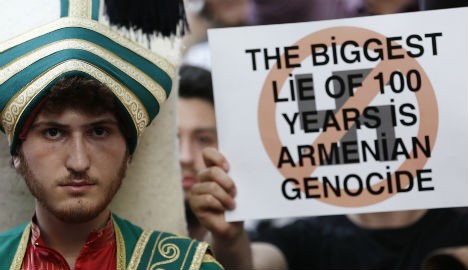 Published: 04 Jun 2016 13:22 GMT+02:00
The German parliament resolution recognising as genocide the massacres of Armenians under the Ottoman Empire has "no value" and won't change Turkey's position on the matter, Turkish President Recep Tayyip Erdogan said on Saturday.
Turkey recalls Berlin envoy after Armenia genocide vote (02 Jun 16)Turkey: vote on Armenia 'genocide' a 'test of friendship' (02 Jun 16)
He said he wondered how German officials could look Turkey's leaders in the face after Thursday's vote in the Bundestag, which prompted Ankara to withdraw its ambassador and warn of further consequences.
But he said it was "too early" to talk of economic measures against Germany. And he said the dispute with Berlin should not be a factor in Turkey's wider relationship with the European Union, acknowledging it would also do Turkey no good "to act with hate".
"The decision taken by the German parliament has no value whatsoever," Erdogan said in comments to Turkish newspapers including the Hurriyet daily while on a trip to Africa. 
"Our position on 1915 is well known… and this kind of decision is not going to change what we think about our history. But they also overlook the fact they face the risk of losing a friend like Turkey."
In a televised speech later in the day, Erdogan accused the international community of using the issue as "blackmail" against Ankara, threatening to leave Europe "to its own worries" if the disputes was not resolved.
"The issue here is not the Armenians…. The Armenian issue is used all over the world as a convenient blackmail against Turkey and has even started to be used as a stick," he said in a televised speech.
"I am addressing the whole world. You may like it, you may not. Our attitude on the Armenian issue is clear from the beginning. We will never accept the accusations of genocide."