With many many more flying under the radar….
Germany warns it is monitoring 500 Islamic extremists who pose a 'potential terror threat' – after foiling ISIS suicide bomb plot involving TEN jihadis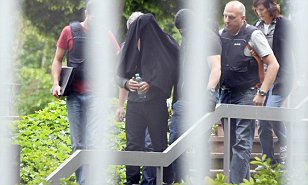 By Simon Tomlinson for MailOnline15:12 03 Jun 2016, updated 00:29 04 Jun 2016
German security forces say the risk of terror attacks in the country is highComes a day after three Syrians were arrested over 'ISIS suicide bomb plot'All three were living in refugee shelters, adding to fears ISIS was sending terrorist to Europe disguised as refugees
Authorities in Germany are monitoring almost 500 Islamic extremists they believe pose a potential security threat, officials said today.
The announcement came a day after the arrest of three men suspected of planning to carry out an attack in the country for ISIS.
The men – identified only as Syrians named as Hamza C, 27; Mahood B, 25; and Abd Arahman AK, 31 – were arrested in three separate locations across Germany following a tip from a fourth suspect who had approached French authorities earlier this year