They must have lacked a tall building in the vicinity.
But being pious Muslims, they improvised.
ISIS stone a 15-year-old Syrian boy to death for the 'crime' of being gay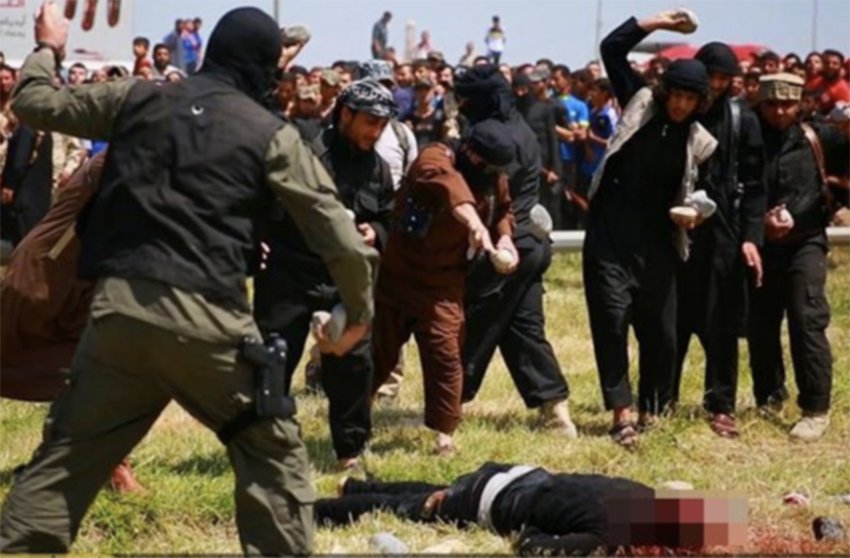 GRAPHIC IMAGES: Crowds forced to aid the Islamic police in stoning a young teenage boy to death
Islamic extremists have stoned a 15-year-old boy in Syria to death for the 'crime' of being gay.
Crowds gathered in Mayadin, a city in the eastern Deir ez-Zor province, to watch the horrific execution.
The boy, Jamal Nassir al-Oujan, was arrested by the ISIS-led Islamic police on Sunday (22 May).
After a short trial, the Sharia Court found him 'guilty' of sodomy and ruled he should be killed by stoning.
'Al-Oujan was brutally stoned to death by ISIS militants in Jaradiq square in the Mayadin city on Monday afternoon,' an eyewitness told ARA News, speaking on condition of anonymity.
'Also, some civilians were forced to participate in stoning the victim,' the source added. 'The brutal scene has shocked all residents of Mayadin.'
It is claimed Islamic extremists murder gay people in this way to 'cleanse them of their sins'.