They all bear the last same name of Timawayne…..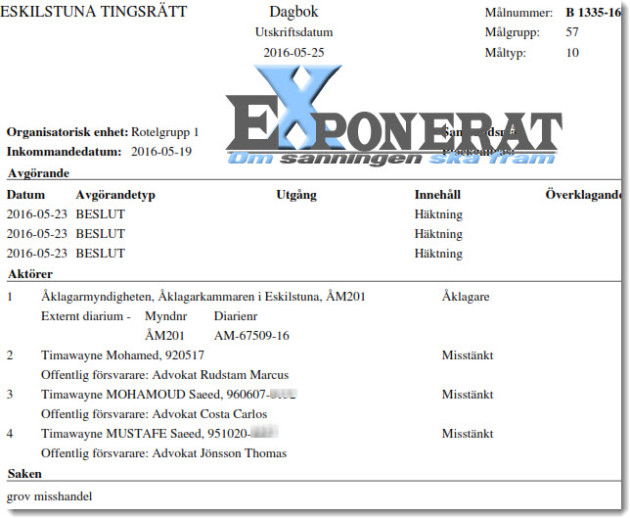 Police seek witnesses to serious domestic violence
ESKILSTUNA
The 23-year-old woman was walking home from the store when she was assaulted by three men. They jumped on the prone woman and the police are now looking for more witnesses to the event.
It was on the evening of 17 May that the 23-year-old woman walked by the Lagersberg area. Suddenly she was befallen upon by three men who beat her down.
The three men aged 20-24 are under arrest and the police have a witness who claims to have seen the men beat the woman.
But at the time of the beating there were several people at the scene near Lagersberg farm, and they want the police to now get in touch with, among other things, two people who were walking with a dog.
► Read more: Rowdy in Lagersberg
It was at nine o'clock on Tuesday night as the two possible witnesses passed the site of the beating. Investigators would like to get in touch with them.
Police hotline of the matter is 070-307 59 30th
The 23-year-old woman is reported to have suffered serious injuries and was driven by ambulance to the hospital. She injured including jawbone and was bleeding heavily from the face, according to police data.