No society is guaranteed perpetuity…..
Real Talk About Open Borders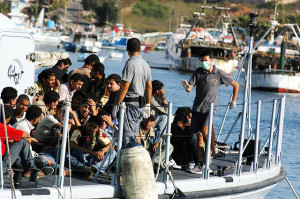 Addendum: In order to grasp just how destructive mass immigration, in concert with state-enforced multiculturalism, is to social capital take a look at this British poll. As you'll notice, people living in Northern Ireland-the part of the UK which has been riven by sectarian conflict for over a century-trust their neighbors more than those living in a post-English London. Food for thought. 
One of the chief misconceptions about my immigration views is that they're born of willful intransigence. The conceit that my political philosophy was shaped years ago-true, to a large degree-and has been unyielding in the face of overwhelming evidence which logically refutes it-completely baseless-is surprisingly widespread among my critics. The truth is that I'm actually desperate to be persuaded, to be convinced that open borders is somehow a desirable-or even workable-state of affairs.
Admitting that you're wrong, especially about sincerely, long-held convictions, can be psychically devastating for some individuals. One need only read David Horowitz's disturbing memoir Radical Son to get a sense of how traumatic reevaluating your core ideological beliefs can be to a human being. That said, I am not by nature an ideologue. My identity and my sense of self worth are not wrapped up in the outcome of a particular domestic or international debate. Although not a consequentialist, I do accept reality as it is, which is why I find the intellectual defense of mass, 3rd world immigration to the West so utterly unconvincing.
I want to be persuaded that I'm wrong,  but over the past 2 decades I've yet to encounter an even minimally persuasive argument explaining why I am. The most compelling defense of open borders I've heard was offered by Julian Castro, the son of a '60s Chicana militant whose children have been able to profit from the political cachet of faux multiculturalism and our country's drastically altered demographics. Empty suit though he is, at least he had a rudimentary understanding of the issue being discussed, unlike almost every open borders libertarian I've tried to engage on this subject. To cite just one example of the fundamental ignorance they're operating from, the writer David Marcus routinely extols the beauty of Ellis Island immigration in cliched essays, despite being blissfully unaware of the fact that almost all non-white immigration was prohibited during this halcyon period of American history.
Yevgeniy Feyman is a much more informed interlocutor, yet I came away from his discussion at The Irish Exit this past week with my beliefs, vis-a-vis immigration, fundamentally unchanged. Although an expert in health care policy, Mr. Feyman has a keen interest in the subject of immigration, which he believes should be unfettered. Echoing many of the same arguments used by open borders advocate Bryan Caplan-whose work he referenced-he asserted that there is an ethical and utilitarian case for unrestricted immigration to the West, neither of which I found terribly convincing.
One of my main problems with the latter argument was his insistence upon using gross domestic product as a proxy for economic growth and wealth creation, something that is genuinely perplexing coming from an ostensible proponent of free markets. According to Feyman, economists have postulated a 60% growth in GDP if Western nations completely opened their borders, while a 140% increase would result from global immigration restrictions being completely removed. Even if we were to accept these fantastic claims, it's far from certain that this would be a good thing for our economy. Even the thousands of largely illiterate, unskilled Somalis imported to the interior of this country collectively boost our GDP. However, I'm sure that serves as scant comfort to the taxpayers forced to support their intergenerational welfare.
NOTE: The quality and time between accepting large numbers of people is crucial in maintaining the civil society.