My question is, why in the world in a theater of war does a president need to sign off on a strike against an enemy combatant? Only in Obama land.
Akhtar Mansour, 'believed killed in US drone strike' that was sanctioned by Obama on Saturday morning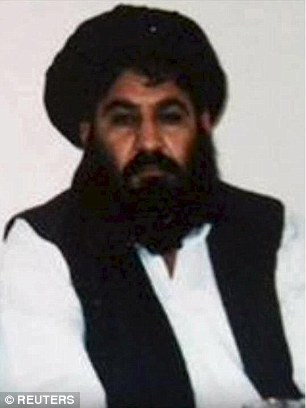 Afghanistan Taliban believed to be dead following US drone strikeThey targeted Afghan Taliban leader Mullah Akhtar Mansour in remote areaPentagon assessing results of airstrike to determine whether he was killedAuthorities warned that it could take days for confirmation of his death
By KEILIGH BAKER FOR MAILONLINE and JAMES WILKINSON FOR DAILYMAIL.COM
PUBLISHED: 20:48 GMT, 21 May 2016 | UPDATED: 06:25 GMT, 22 May 2016
On Saturday the U.S. carried out a drone strike on Mullah Akhtar Mansour (pictured), who had been leader of the Afghanistan Taliban since July 2015. He is now believed to be dead, the Pentagon said
Mullah Akhtar Mansour, the head of the Taliban in Afghanistan – and a tong-time 'obstacle to peace' in the country – is 'likely dead' after a US drone strike on Saturday.
The U.S. military carried out an air strike targeting Afghan Taliban leader Mullah Akhtar Mansour in a remote area of the Afghanistan-Pakistan border region earlier today, the Pentagon said.
It is still assessing the results of the airstrike to determine whether he was killed.
That confirmation could could take 'days', a senior official told CNN.
For now, however, it is believed that Mansour and another male combatant were killed in the strike, which was authorized by President Barack Obama.
There was no collateral damage in the drone strike, officials told CNN.
However, claims of Mansour's death were denied by a  Taliban commander close to the man, who spoke to Reuters on condition of anonymity.
'We heard about these baseless reports but this (is) not (the) first time,' the commander said. 'Just wanted to share with you my own information that Mullah Mansour has not been killed.'
This isn't the first time Mansour has been attacked: In December, he was reported wounded and maybe killed in a shootout at the house of another Taliban leader near Quetta in Pakistan.
But this time the U.S. was taking no chances, using multiple drones to attack him.