See how easy it is?
Migrant family of nine target Britain and get house and benefits in 3 weeks
A BULGARIAN family of nine who targeted Britain's soft welfare system have been given a council house just three weeks after arriving here.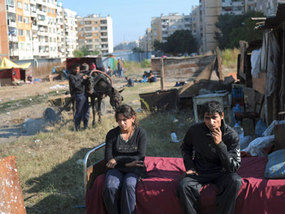 By MACER HALL
PUBLISHED: 00:00, Wed, Sep 12, 2012
Jobless Rusi Georgiev, 41, headed to the UK with partner Mariana Sabeva, 34, and their seven children after reportedly telling fellow Bulgarians he would live on benefits here. 
The family set up a squalid camp outside Westminster Cathedral in central London – and were handed accommodation after lodging a claim for asylum with the Home Office.
Last night, critics said it was another example of foreigners taking the British people for "mugs" by milking our lax benefits system.
Tory MP Mark Spencer said: "My constituents are sick to the back teeth with this sort of thing. 
My constituents are sick to the back teeth with this sort of thing
"People who work hard and fall on hard times find that getting access to benefits is intolerably long winded. Then they see people coming into this country who have contributed nothing and easily getting handouts. It is morally indefensible." 
Mr Spencer, MP for Sherwood, Notts, added: "People from Bulgaria should not be coming here to claim asylum – it is another EU country.
"This is another problem brought about by our ­membership of the EU. We should not be being told what to do by Europe."
Nicholas Soames, Tory MP for Mid Sussex, condemned the housing offer as "unacceptable".
UK Independence Party Euro-MP Gerard Batten said: "We ­can't blame the Bulgarians, they are speaking the plain truth.
"Our membership of the European Union means that we are essentially inviting every parasite in the EU to come and take advantage of our housing and benefits system.
"We are the biggest mugs in the world to allow this to happen.