Let all the Jew haters mingle there together and toss stones at the devil pillar.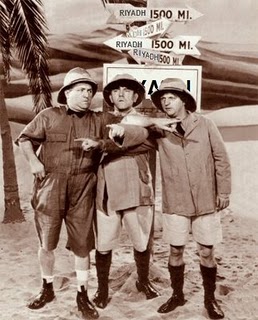 The Saudi Solution
Accommodations are plentiful in the kingdom for Sunni Muslim migrants
by Daniel Pipes
Washington Times

As European governments slam the gates shut on illegal Middle Eastern immigrants, where can Syrians and others go to, not far from their homelands, for safety and employment? The answer is obvious but surprisingly neglected: to Saudi Arabia and the other rich Arab sheikhdoms.
The more than one million migrants who boated, trained, bussed, and walked to northern Europe in the past year overwhelmed the continent's capabilities and good will. Those large numbers were then exacerbated by crime and disease, an unwillingness to assimilate, a drive to impose Islamic laws, and such outrages as the Cologne taharrush (mass sexual assault) and the attacks in Paris and Brussels.
In reaction, populist and fascist parties (such as, respectively, the National Front in France and Jobbik in Hungary) gained strength. The European mood has so deeply shifted – as shown by the March elections in Germany – that much reduced numbers of illegals are likely to get in, no matter what new routes they try, such as via Italy.
This leaves huge numbers of would-be migrants wanting to enter Europe. A European Union (EU) commissioner, Johannes Hahn, counts "20 million refugees waiting at the doorstep of Europe. … Ten to 12 million in Syria, 5 million Palestinians, 2 million Ukrainians and about 1 million in the southern Caucasus." Yes, but that's just a start; I also add vast numbers of Libyans, Egyptians, Yemenis, Iraqis, Iranians, Afghans, and Pakistanis – and not just political refugees but also economic migrants. In all, the numbers of Muslim peoples ready to emigrate could potentially match the 510 million EU residents.