Islamic State now has an official rival…….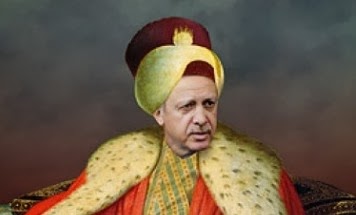 HERE WE GO – SPIRITUAL LEADER OF THE MUSLIM BROTHERHOOD IS NOW CALLING ERDOGAN THE 'SULTAN'
By The Right Scoop
One thing that ISIS has never been able to get from one of the two biggest organizations in the Muslim world is recognition of their Islamic caliphate, as the Muslim Brotherhood has always rejected their caliphate as illegitimate.
But that's not going to be a problem for Erdogan, as he clearly has the blessing of the Muslim Brotherhood.
Yusuf al-Qaradawi, top cleric and spiritual leader of the Muslim Brotherhood, is now calling Erdogan by the title of 'Sultan'. He did so at an Istanbul Festival called 'Thanks Turkey' near the end of April, designed to thank Erdogan for aiding the Syrian refugees and defending the cause of Gaza and Jerusalem.