Though shalt not criticize the political elites' pet project…..
State funded "news" organizations are nothing more than politicized arms of career politicians.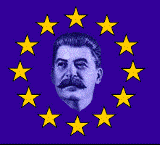 Jeremy Paxman WITHDRAWS article critical of European Union from next issue of Radio Times 'after pressure from BBC'
Jeremy Paxman is said to have withdrawn an article critical of the EU from the Radio Times after BBC bosses feared it would damage his impartiality for his upcoming Paxman in Brussels documentary, pictured
University Challenge presenter said to have acted over BBC concerns
His piece for the Radio Times was said to have 'damaged his impartiality' 
But journalist was 'unhappy' at proposed changes by TV executives 
Paxman due to present special report on the EU for BBC One on May 19 
Jeremy Paxman has withdrawn an article criticising the EU from the next issue of the Radio Times under pressure from the BBC, it has been claimed.
It is understood the outspoken journalist and presenter's views raised concerns with broadcast bosses ahead of a documentary set to air later this month.
He will appear on Paxman in Brussels on May 19, described by the BBC as 'an impartial look at the fundamentals of what actually goes on between the UK and the EU'.
Although the article is not thought to have called for Britain to leave Brussels, the organisation fears his words will damage his neutrality, according to The Sunday Times.
The paper claims the article sees the former Newsnight presenter 'express doubts' about the EU, its procedures and the loss of British sovereignty, and that the 65-year-old was 'unhappy' with proposed changes to his work asked for by a senior BBC executive.
A spokesman for the Radio Times said it was not commenting on the claims.
NOTE: There is no such thing as impartiality in journalism, it's one of the biggest false memes out there.