Face it, regardless of what you may think of them, and I have my opinions, if only one of them acts as a deterrent in keeping a weak or helpless person from being victimized, then as long as they stay within the confines of the law, then so be it.
Also, those in the Finnish media (including YLE) including armchair pundits who reject the Soldiers of Odin, have never once condemned the sharia patrols of the Somali community in Helsinki, who insist that "no female (muslim) would ever want to encounter them on the streets during the night, because it would bring great shame to them."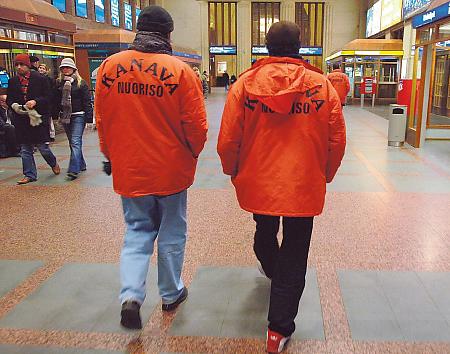 NOTE: Truth be told, if not for feckless politicians, citizens would not feel the need to organize themselves in order to protect the civil society. In a state where no average citizen can own a weapon for self defensive purposes, the only thing the police do for someone in real danger, is to draw a white chalk line around their cooling corpse.
Police: Xenophobic street patrols unwelcome in Mikkeli
Authorities in eastern Finland pledge to keep a close eye on the nationalist group Soldiers of Odin, which claims to be protecting Finns from foreigners. Many of its members have extensive criminal records.
The far-right street patrol group Soldiers of Odin has begun operations in Mikkeli, eastern Finland. "So far it's been small-scale, but we know that their activities may expand this spring," says Chief Inspector Petri Isokuortti of Mikkeli Police.
Isokuortti says he considers it regrettable that the self-styled 'civic protection' group has arrived in Mikkeli. He does not believe that street patrols make the city a safer place. The police chief stresses that maintaining order and safety are the responsibility of authorities.
"Racism should be rooted out"
"The police do not under any circumstances support such activities, especially with regard to this organisation. There are anti-foreigner [views] behind it. All kinds of racism and that kind of activity should be rooted out," Isokuortti tells Yle.
Isokuortti says that police throughout the country are well aware of the group members' backgrounds, and at least some have been involved "anti-foreigner activities".
"There's skinhead-type history involved," says Isokuortti.
Operations expanding abroad
He points out that there is nothing illegal about walking around city streets in a group in and of itself, but that the group's actions will still be monitored.
"We'll see how it gets underway and ensure that there are no over overreactions," Isokuortti adds.
The Soldiers of Odin were launched last year by a neo-Nazi who has been convicted of a racist assault in the northern city of Kemi. The group has been active in Joensuu, some 200 kilometres from Mikkeli, as well as other cities.
In recent weeks wire services have reported that local branches have begun operations in Estonia and Norway.