The key issue here is the state media and security community calling this Islamonazi "Finnish" and their refusal to divulge the name.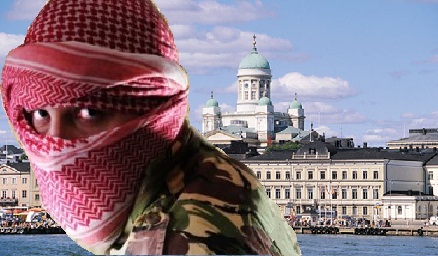 The islamonazi's name is Cubeyda Hassan Jama, and he's no more "Finnish" than I am, and I've lived here for over 28 yrs. He's a Somali Islam 101'er with dual nationality. That he has nothing to do with terrorism here in Finland is one thing, and that's great, but he is someone who managed to acquire Finnish citizenship, someone who is completely alien to the Finnish way of life, being completely unwilling (I would say unable) to participate in a modern Western society. So why was he here, and who was the genius(es) who decided he should get citizenship in the first place? That's the more troubling aspect surrounding this islamofascist.
Security police: Finnish terrorism suspect case "not linked to Finland"
Finland's security and intelligence police Supo says that the Finnish citizen charged in London with terrorism-related crimes has been living outside of Finland for some time. Supo chief inspector Tuomas Portaankorva said the case is unrelated to Finland.
Finland's security and intelligence police Supo said that the case of the young Finnish national held in Britain on suspicion of terrorism had no direct links to Finland in light of current information.
"The individual has been abroad for several years, a long time, and the arrest took place overseas. This matter is not linked to Finland," said Supo chief inspector Tuomas Portaankorva.
Earlier on Monday London Metropolitan Police disclosed that the 19 year-old suspect resided in southern London in the Thornton Heath area. The man appeared in the Westminster Magistrates' Court Monday afternoon. The suspect faces charges of attempting to join the extremist organisation Islamic State. However he has denied the allegations.
Prosecutors say that the man tried to travel to Syria by way of Romania. He was detained last Friday as he attempted to leave Stansted airport on a departing flight. Prosecutors also say that police found instruments in the man's possession that could be used in battle.
For its part Supo said that the number of people known to be leaving Finland for Syria or Iraq has remained the same: so far at least 70 people have traveled to conflict areas. It estimated that 15 – 18 have since been killed.