Time actually flies, but with Jew haters it seems to stand still.
This article by Dr.Gerstenfeld was first published at Israel National News and republished here with the author's permission.
Antisemitism in 2016
Manfred Gerstenfeld
28 January 2016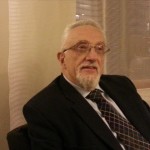 The frequency and pace of anti-Semitic and anti-Israel developments including incidents in the first weeks of 2016 already provide sufficient material for a multi-content overview. The Simon Wiesenthal Center (SWC) only recently published its annual list of anti-Semitic slurs for 2015. At this rate of incidents it better moves to a bi-annual publication of the list in 2016.
Swedish Social Democrat Foreign Minister Margaret Wallström just missed making the 2015 SWC list, though she was apparently a serious candidate. Wallström has however already put forward her candidacy for 2016. She demanded a thorough credible investigation into the killing of Palestinian terrorists by Israel, which she termed "extra-judicial executions." She made no such demands regarding the killings of Muslim terrorists in France after the January and November 2015 terror attacks in that country, demonstrating double standards which are the core of anti-Semitism. Even worse the Swedish government has shown itself to be an indirect supporter of terrorism.1
Over the last few days alone, even more negative events have occurred in Sweden worthy of investigation. A fifteen year old Somalian asylum seeker killed a female worker in the Mölndal refugee center.2 As a reaction an estimated hundred masked men marched in central Stockholm beating up immigrants.3 There were different reactions to the murder. The head of the Swedish police expressed his sympathy for both the victim and the murderer.4
A police patrol of ten officers were sent to extricate a 10-year-old boy from a refugee center in Västerås after reports that he had been repeatedly raped there. The police were threatened with violence and forced to flee for their lives.5 Police have also warned that the Stockholm main train station is now unsafe. It has been taken over by 200 Moroccan street children, who according to reports, steal, grope girls, and assault security guards.6 It is now also known that the Swedish press and police remained silent for over a year on matters relating to refugee criminality.7
UN Secretary General Ban Ki-Moon is also a strong candidate for the SWC list, for his sympathetic explanation, perhaps better termed justification, of Palestinian terrorism, calling settlements an affront to the Palestinians and to the international community.8 One wonders why he has never appeared on the list before.
Apparently, it is difficult to obtain Ban Ki-Moon's 'affront to the international community' condemnation. Mass murders by Muslims have not qualified thus far, and nor have the many genocidal statements by Hamas, or even those issuing from Tehran. Apart from his silence on these issues, Ban Ki-Moon has a long record of moral relativism, a core anti-Semitic double standards motif, against Israel.9 Added to his own multiple anti-Semitic slurs, the Secretary General has shown that he prefers to look the other way when genocidal intentions against Israel come up.
Ban Ki-Moon has delivered many anti-Israel statements over the years. Yet at last year's opening session of the Global Forum on anti-Semitism in Jerusalem a letter from the UN Secretary General, was read to attendees by a representative. In light of Ban Ki-Moon's recent statements, the Israeli government should rethink its list of invitees next time.
Yet another speaker at the opening of that forum should not have been invited. Anne Hidalgo the socialist mayor of Paris has since awarded the city's highest decoration to Mohammad Abbas who regularly glorifies terrorist murderers,10 this despite murders of local citizens by Muslim terrorists in that city.
One of the most recent cases of a major distortion of Palestinian terrorism by a human rights body involved Doctors without Borders, which presented a photo-exhibition glorifying Palestinian terrorists in a building belonging to the Paris Municipality. CRIF, the umbrella organization of French Jewry protested against the exhibition and asked the municipality to withhold its facilities for the event.11 Hidalgo refused to do so.
The EU did take one significant step forward on anti-Semitism. The body appointed a coordinator to combat anti-Semitism as well as one to fight islamophobia.12 However, this was accompanied by a giant step backwards, when EU members allowed entry to massive numbers of refugees from Muslim countries where extreme anti-Semitism is rife.
The president of the European Jewish Congress (EJC) Moshe Kantor summed up the situation, saying that "the high level of anti-Semitism, the crisis brought about by large numbers of migrants and asylum-seekers entering Europe, the wave of terror and the economic situation are all interconnected and present great challenges for European Jewry."13
Ariel Muzicant, Vice President of the EJC noted that "it is well within European leaders' powers to turn the tide of anti-Semitic hate, it is merely a question of political will." Muzicant added that he was far from certain that this will exists.14
The Israeli government has now published statistics which have been known for years. Diaspora Affairs minister Naftali Bennett informed the cabinet of a 2012 study which found that 40% of European respondents to a survey agreed with the statement that Israel is conducting a war of extermination against the Palestinians.15
One might say: better late than never. I have presented these and similar figures regarding the Nazification of Israel in other countries to one then deputy minister and top officials of three government ministries over the past three years. Not one of them has seen fit to do anything with the information, nor has the government ever publicized it before now.16
FOOTNOTES