How does it feel to have the shoe on the other foot?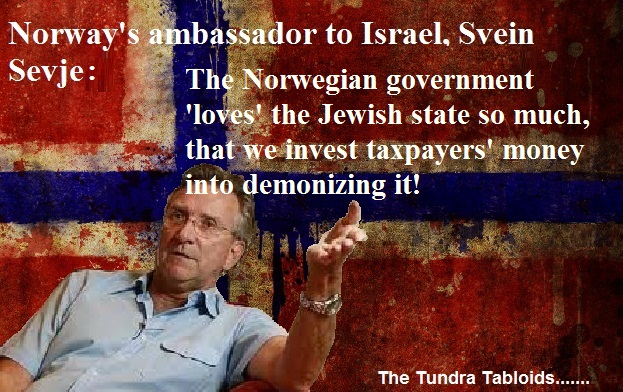 For decades the Norwegian and Swedish media (and to a lesser extent Finnish, but not by much) have lambasted Israel with every cockeyed, half baked and fraudulent story imaginable, and when called out for it, they present it as "merely reporting what the Arabs are saying", or point to far-left (human rights) organizations who are well known liars and propagandists, like B'tSelem etc.
NOTE: One thing is for sure, the Norwegian police have a far more weak case against Pamela Geller than the Israeli Defense Forces and the Jewish state in general has against the Norwegian media.
Oslo police responds to American blogs: – We have not given up our town
For several years, has two articles from Aftenposten pending immigration critical sites. Now turn the police back.
For several years, has two Aftenposten articles from 2010 and 2011 pending on various blogs.
The reason lies in an Aftenposten case from 2011 about the very brutal robbery of Sturla Nøstvik. He was one of many robberies victims of a robbery gang that ravaged this year.
The policemen who sought Nøstvik after the robbery, the frustration having said that "We have lost the city," and pointed out that they only had two patrol cars out in the city this evening.
Reappeared after mass atrocities in Cologne
After mass atrocities in Cologne, where several women were sexually harassed, abused and robbed, has issues reappeared. Several of the women have described the perpetrators as of North African or Arab origin.
The case will look first to have appeared on the website Poqari News. They come with a variety of allegations, including that Greenland in Oslo looks Karachi, Basra and Mogadishu in one and that Greenland is no longer Norway or Europe, except when welfare handouts.
Since then post spread to a number of Islamic and immigration critical blogs, including Infowars and blog Pamela Geller, where police responded latter at Twitter.
– People around the world must not think Oslo is dangerous
It's police chief Sveinung Sponheim show who wrote the answer to Geller. By phone Friday night he explains Aftenposten that they decided to react quickly – as soon as they saw what was written.
More here. H/T: Gaia
Here's the tweet from the "outraged" Oslo police
@PamelaGeller The Oslo police has NOT lost our city. We are far from having an "apocalyptic level" of violence. This is true also for the..

— Oslo politidistrikt (@politietoslo) January 7, 2016