I agree with Pat Condell, they needn't be registered, but closed down entirely.
These centers of islam 101 hate indoctrination need to be shuttered, monitoring them still gives a shadow of credibility. Islam is not a belief system like all others, it's a total society project, a detrimental one to any society that plays along with it.
Mosques oppose madrassa registration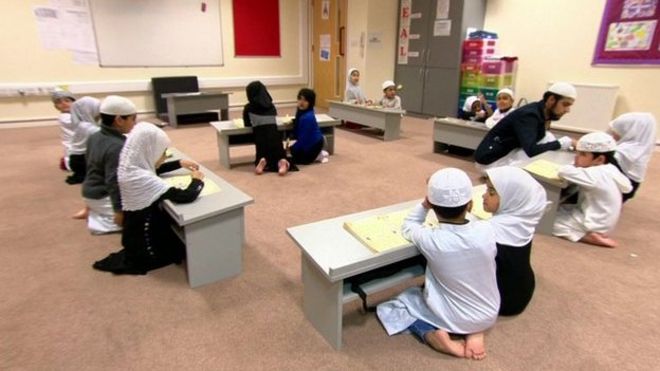 An organisation of mosques says it "unequivocally" rejects government proposals to require madrassas in England to be registered and inspected.
The Northern Council of Mosques, representing 400 mosques, says this "encroaches" on religious freedom.
The Muslim supplementary schools would have to comply with plans for tighter scrutiny over "out-of-school education settings" if the plans were introduced.
The government's consultation on the proposals closes on Monday.
And the Department for Education has indicated that it makes "no apology" for wanting to ensure children are properly protected.
David Cameron has warned that "teaching intolerance" had to be stopped.
But in a response, the mosque leaders say the plans are based on "the flawed assumption that radicalisation takes place within some madrassas" and that such "control and monitoring" over lessons would "effectively lead to a form of state sanctioned religious expression".
They say the registration and inspection plan "unduly encroaches on the legitimate right of faith providers to teach their children their faith".