WHAT THEY DO BELIEVE SHOULD CAUSE YOU TO LOATHE THE IDEOLOGY EVEN MORE THAN YOU DO ALREADY.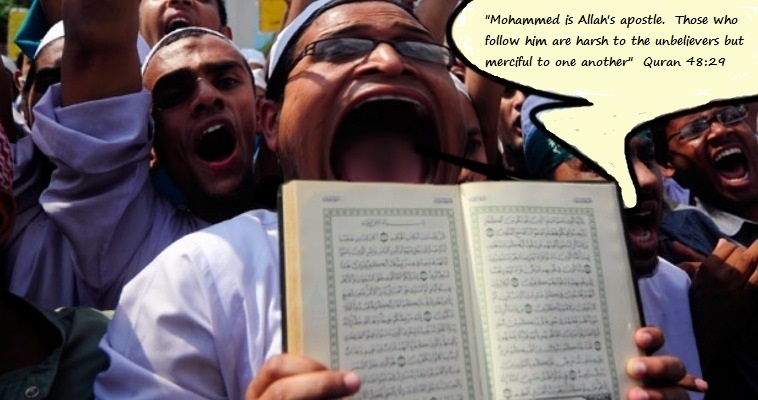 WHAT MUSLIMS REALLY BELIEVE
An illuminating look at the key research on this subject.
December 31, 2015 John Perazzo
Eric Holder once called the United States "a nation of cowards," when he claimed that Americans are largely afraid to have an honest discussion about race. He was partially correct: Leftists like Holder are fearful of discussing race in any manner that depicts African Americans as something other than the perpetual, pathetic victims of white bloodlust and simpleminded bigotry. The meek responses that Bernie Sanders, Martin O'Malley, and Hillary Clinton recently bleated out when confronted by some of the aggressive racists in the Black Lives Matter movement, were classic illustrations of this cowardice.
Equally pitiful has been the Left's propensity for turning two blind eyes to the very obvious problems posed by Islam and the value system inherent in its scriptures. For the most part, leftists are content to simply depict anyone who's willing to have a substantive conversation about those problems, as a dimwit, a Nazi, or both. Thus, when Donald Trump recently suggested that it would be advisable to temporarily stop Muslim immigration into the U.S. until the government is able to get its woefully deficient vetting process in order, he was instantly ridiculed and excoriated by a conga line of glib, self-congratulating know-nothings.
Hillary Clinton, for instance, called Trump's remarks "reprehensible, prejudiced and divisive." Dawud Walid of the Hamas-linked Council on American-Islamic Relations characterized Trump's proposal as "fascist." Martin O'Malley called Trump "a fascist demagogue." CNN national security analyst Peter Bergen saw, in Trump, "the traits of a proto-fascist." And White House spokesman Josh Earnest informed us that Trump's remarks "disqualify] him from serving as president."
[…]
39% of people in Afghanistan believe that suicide bombings are "often or sometimes" justified, as do 25% of Egyptians, 26% of Bangladeshis, and 62% of Palestinians.
Fewer than half of Pakistanis and Malaysians have a negative view of al Qaeda. Barely half of Nigerians and Tunisians have negative opinions about the Taliban. And a mere 16% of Pakistanis hold Hamas in low regard.
In a 2011 survey of Muslims in seven Middle Eastern countries, nowhere did any more than 28% of respondents accept the notion that the 9/11 terrorist attacks were carried out by Arabs.