Classic mohammedan experience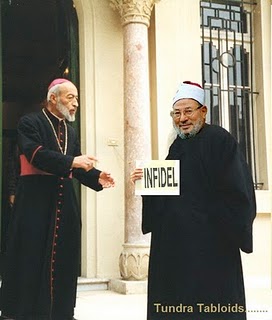 Escaped Syrian priest's description of Christians under IS https://t.co/oo06C1ExbG =classical dhmmitude under Islam https://t.co/beAC5gc6o8

— Andrew Bostom (@andrewbostom) October 29, 2015

The Syrian Catholic priest who escaped IS captivity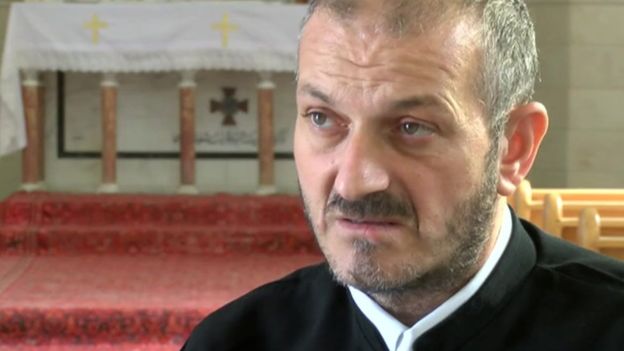 A Syrian priest who was held by Islamic State (IS) militants for nearly three months and threatened with execution has for the first time spoken about his ordeal. Fr Jack Murad was abducted from the central Syrian town of al-Qaryatain in May along with Botros Hanna, a volunteer at the ancient Mar [Saint] Elian Monastery.
Fr Jack told BBC Arabic what happened.
Fr Jack remembers how he and Botros Hanna were blindfolded and had their hands tied, before the car they were forced into sped away to an unknown destination "in the mountains around al-Qaryatain".
After four days, the two men were blindfolded and handcuffed again, before being forced on a much longer journey.
They ended up in a cell somewhere in Raqqa, IS' stronghold, where they were kept for 84 days.
The captives were well-fed, given medical treatment and never tortured, Fr Jack explained.
Here is the speech by Bat Ye'or or on dhimmitude Andrew Bostom was referring to:
THE HEBREW UNIVERSITY OF JERUSALEM
The Middle Eastern Unit
 and
 The Faculty of Humanities
 Chair: Dr. David Satran
 (Department of Comparative Religion)
 LECTURE: November 11, 1996
 (5:00 pm, Room 104 of the Truman Institute)
 by
BAT YE'OR
The Decline of Eastern Christian Communities
in the Modern Middle East
Ladies and gentlemen:
   I have been asked to address you today on the decline of Eastern Christian communities in the modern Middle East. This process of Christian demographical declined has, however, been a permanent trend in Islamized lands, sometimes accelerated by specific events, sometimes stabilized. But the process of withering away has always been there from the beginning and, with the passing centuries, Christian populations that formerly constituted majorities dwindled to minorities – even disappearing from certain regions.
  Here I wish to stress a point: When, in 1983, I coined a new term, "dhimmitude," all those processes by which a society – an ethnic collective group – either managed to survive, defending itself, or was ultimately destroyed. The study of dhimmitude is not the same as the study of the dhimmi condition itself, because dhimmitude concerns the inner politics and inter-relations of a collectivity, which coexists encapsulated within its Islamic environment.
A delicate equilibrium evolved during the centuries of resignation to spoliations and humiliations. But, in the Ottoman Empire, during the 19th century Tanzimat period, that equilibrium was suddenly broken by the immense challenges represented by the total modification of the relationship between the umma (the Muslim community) and the dhimmi populations. Because the Islamic state had granted Jews and Christians a protection in the context ofjihad, a holy war, their whole legal status was thereby integrated into a warlike ideology linked with religion. We thus find three inter-related and inseparable elements: a legal status; a war; and a theology.