From actually meaning something in a world of increasing mediocrity, Canada joins the din of leftist statism after years of Harper sanity, and embraces a radical left-wing kook.
JUSTIN TRUDEAU: CANADA ELECTS HANDSOME BERNIE SANDERS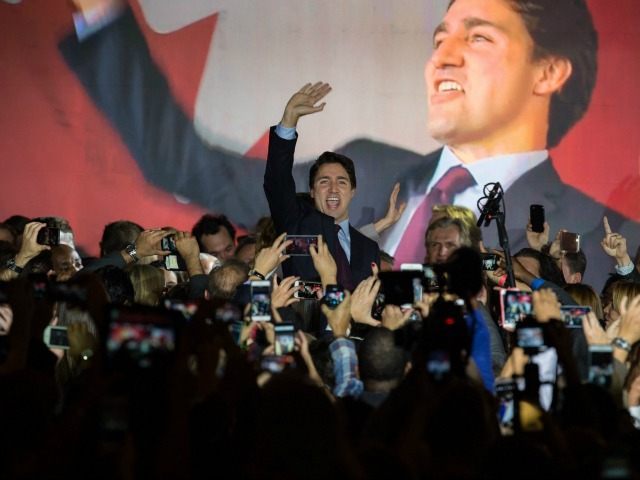 Nicholas Kamm/AFP/Getty Images
New Canadian Prime Minister Justin Trudeau has been fêted for his heartthrob status, his shirtless photos, and his mop of tousled hair. Unfortunately, that's all that distinguishes him from 
Sen. Bernie Sanders (I-VT) 

16%.

Within 24 hours of his election, Trudeau

announced

that he would pull Canada out of the war against the Islamic State. At a press conference conducted in French, Trudeau said he had spoken with President Obama about "the commitments I have made around ending the combat mission." Canada, said Trudeau, is still "a strong member of the coalition against ISIL," but he said that his Liberal regime would be "moving forward with our campaign commitments in a responsible fashion."
That's no surprise coming from the uber-leftist Trudeau, who said back in July that Canadian terrorists shouldn't be stripped of their citizenship under Bill C-24, which would allow the Canadian government to remove citizenship from dual citizens convicted of terrorism, treason, or espionage, according to the Huffington Post. Trudeau said, "I'll give you the quote so that you guys can jot it down and put it in an attack ad somewhere that the Liberal Party believes that terrorists should get to keep their Canadian citizenship. Because I do. And I'm willing to take on anyone who disagrees with that." Trudeau also told the biggest Islamic conference in Canada that he would repeal C-24.
Trudeau's sudden love for radical Islam isn't so sudden. As the Toronto Sun reported, Trudeau met with members of a radical mosque labeled by U.S. intelligence as an al Qaeda recruitment center in March 2011. Trudeau claimed he knew nothing about that, but CBC had done a full expose of the mosque in 2006.
NOTE: In other words, a real bona fide dough headed leftist.