The end results will be catastrophic.
Knowing what we know now, that the Swedes can't be trusted with ensuring that their migrants won't pile over the border into Finland, the government in Helsinki should be drawing up some serious contingency plans in dealing with the aftermath of Sweden's civil chaos and implosion. It will indeed spill over the borders if we are not prepared.
NOTE: Also remember that Sweden has lost over 40 000 migrants that have come into the country, no one knows where they are.
Mr. Ekeroth's concerns extend beyond the welfare of the migrants alone, to the rest of the country.

"We will import conflict, corruption, violence and poverty. We will limit where we can go and where we can enjoy our country," warns Mr. Ekeroth.

"Already the media have reported, too little too late, about violence at our libraries and at our bathhouses where "youth gangs" (a badly disguised way of saying immigrants) are terrorizing regular citizens," he continued.

"So, this is the worst situation Sweden has ever been in I would say."
NEW DATA: SWEDEN RECEIVES RECORD ASYLUM CASES AS NATION SLIPS INTO POLITICAL TURMOIL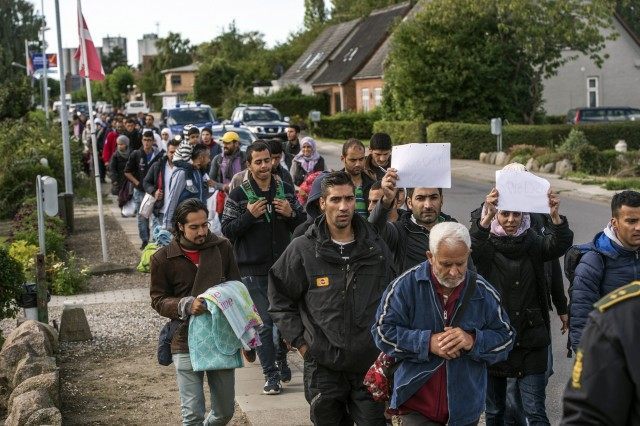 The Associated Press
More migrants have sought asylum in Sweden so far this year than in any other in the nation's history. The new figures were revealed just days after the ruling left-wing coalition fell apart and the Prime Minister confessed Sweden was in political turmoil, making an election likely.
Sweden's Migration Agency, Migrationsverket, has revealed that 86,223 people have launched asylum cases in 2015. This is up from earlier predictions of 74,000 by December, as reported by The Local.
"Higher levels than in 1992, I think. We had a lot of ex Yugoslavians coming then. Now we are at a higher pace even," said Kent Ekeroth, a Sweden Democrat member of the Riksdag, in an exclusive statement to Breitbart London.
"With the current rate we are talking about 700 000 immigrants per year, which in no time will transform Sweden into something that is not Sweden," he added.
The figures do indeed surpass the previous record set in 1992, when 84,016 people sought asylum in the Scandinavian country following the Balkans war and subsequent break up of Yugoslavia.
The figures emerge just days after Prime Minister Stefan Löfven announced the nation was struggling to cope and would be housing migrants in tents.
"Sweden is preparing for a crisis situation," the Social Democrat leader told a press conference in Stockholm on Friday. "Our focus is now on [providing] an organised reception. First of all, to ensure there is accommodation. The standards are being lowered."
More here. H/T: Buck