Two dead in shooting outside NSW police headquarters in Parramatta – rolling updates
Police confirm two people are dead after a shooting outside state crime command offices on Charles Street in western Sydney, but give few other details
Updated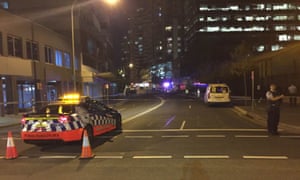 […]
UPDATE:
Parramatta streets shut down after shooting, two people dead
PEOPLE are being warned to stay away from Parramatta CBD after a shooting outside police headquarters.
A lone gunman shot dead a police IT expert outside police HQ in Charles Street before being gunned down by police.
The shooter, believed to be of Middle Eastern appearance and dressed in black, launched an attack from the street, peppering the front of the building with bullets.