UPDATE: YLE journo Chris Vuojärvi: According to Governor McAuliffe policemen will soon apprehend the suspected man. Man chasing him now on the highway I-64.
BREAKING VIDEO: Footage of the moment a gunman shot and killed 2 @WDBJ7 reporters in #Virginia. pic.twitter.com/otxBQShwdd

— Israel News Flash (@ILNewsFlash) August 26, 2015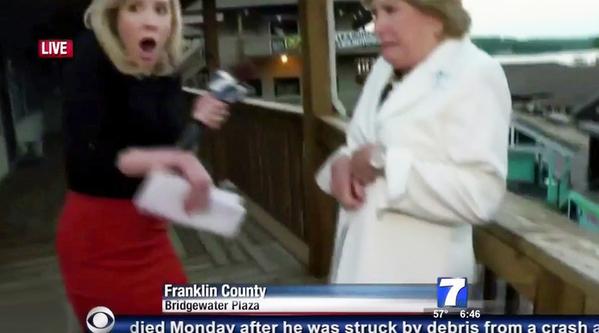 (CNN)A manhunt is underway for a gunman who fatally shot a local news reporter and photographer on live television during an interview outside Moneta, Virginia, on Wednesday morning.
Alison Parker was interviewing a woman at approximately 6:45 a.m. when shots rang out. Both women screamed.
As the camera fell to the ground, the audience caught the briefest glimpse of a man who appeared to pointing a gun toward the downed cameraman.
The station cut away to a shocked anchor, Kimberly McBroom, back in the studio.
Parker, 24, and Adam Ward, 27, were killed in the shooting at Bridgewater Plaza near Moneta, the station reported later.
The woman being interviewed, Vicki Gardner, executive director of the Smith Mountain Lake Regional Chamber of Commerce, was shot in the back and is in surgery, said Barb Nocera, the chamber's special projects manager said.
The gunman is believed to have fired six or seven times, WDBJ General Manager Jeff Marks said.
He remains on the loose. The Bureau of Alcohol, Tobacco, Firearms and Explosives is participating in the manhunt, while the ATF and FBI are participating in the investigation. Area schools are on lockdown.
Authorities know the identity of the man believed to be the shooter, a law enforcement official told CNN.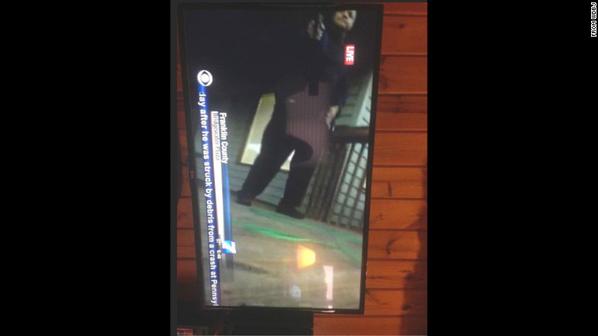 A "light skinned" black man who cried racism