Remarkable, after all of the smearing, intimidation, and marginalization by the political status quo, average Swedes are responding to their message of scaling back immigration/refugees/asylum seekers.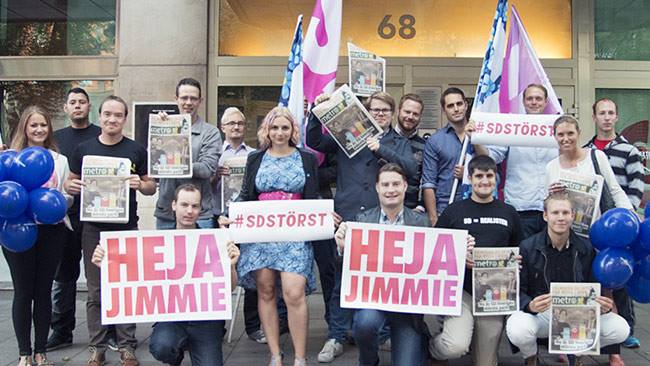 Yougov: Nu är @sdriks Sveriges största parti #svpol http://t.co/rrQsOkxtPY pic.twitter.com/PZl9W0m3FQ

— Metro Sverige (@metrosverige) August 19, 2015
 Sweden's nationalists lead polls for first time
Sweden Democrat leader Jimmie Åkesson. Photo: Henrik Montgomery/TT
Published: 20 Aug 2015 07:50 GMT+02:00
The Sweden Democrat party has been gradually rising in popularity since it scored 12.9 percent in the country's last general election in September 2014.
But a survey by pollsters YouGov published in Sweden's Metro newspaper on Thursday suggested that 25.2 percent of those questioned would now vote for the nationalists, who are calling for dramatic cuts in immigration to Sweden.
Prime Minister Stefan Löfven's Social Democrat party – which remains in favour of helping large numbers of refugees from war torn nations – scored 23.4 percent in the poll. The centre-right Moderates, led by Anna Kinberg Batra who took over from the country's former Prime Minister Fredrik Reinfeldt earlier this year, saw their share cut to just 21.0, having previously scored higher than their ruling rivals in recent surveys.
Political scientists were split on how to interpret the YouGov poll which was carried out last week, following both a high profile campaign by the Sweden Democrats to ban begging on Stockholm's subway, and a double stabbing outside an Ikea store, for which two Eritrean asylum seekers were arrested.