Though there's no info out yet on the perp(s), we do know that the followers of a certain destructive ideology hate dogs that aren't used for hunting or herding.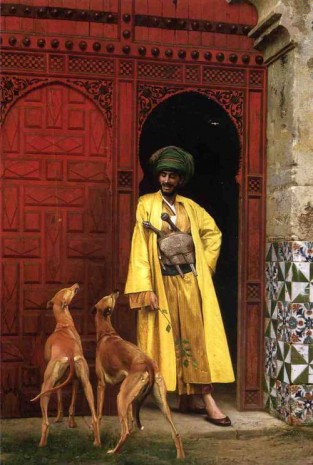 Panic over 'poisoned' pooches in Paris park
This is not one of the dogs in the story. File photo: Steven Ross/Flickr
Published: 19 Aug 2015 15:06 GMT+02:00
The alarm was raised after the inexplicable deaths of four dogs following walks in the Georges-Brassens park in the 15th arrondissement, in the south of Paris.
Héléna, whose French bulldog died of convulsions shortly after walking in the park, is convinced that her pet was poisoned.
According to the dog-owner, four dogs died after walking down the same path reserved for pets in the park, strengthening her suspicions.
"There is a very strong suspicion of poisoning. Besides, a man has already found a kind of poisoned meatball or biscuit that his dog ate, just at the beginning of the path, in the bushes," she told Le Parisien.
Héléna now plans to lodge a formal complaint, as soon as she gets the results of a test on the substance regurgitated by her dog.
Fellow dog-owner Jean-Michel, who often walks through the park with his eight-year-old Pekinese dog, says he is now extra cautious.
"He never goes very far, but since I heard about all this I pay more attention to what he is sniffing," he said.
Local authorities also appear to be taking the cases seriously, with officials saying on Tuesday saying that they would "comb through the park and its surroundings" on Wednesday morning.