It's Islam 101, but at this point, any public discourse that identifies key Islamic components has to be appreciated.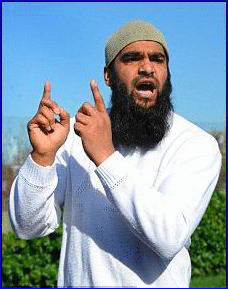 The islamic juggernaut in France is just too prevalent to be dismissed anymore. With an ever growing muslim community and the number of young people infatuated with jihad, the country is a ticking time bomb deep within the very heart of Europe.
A Generation "On the Brink of Breaking Apart"
by Marie-Amélie Lombard, July 2/2015
FM: Le Figaro
INFO LE FIGARO – In a report just submitted to Prime Minister Manuel Valls that Le Figaro has obtained, French Socialist Party (PS) deputy Boutih Malek describes "frustrated youth, ready to lose it."  He is concerned that the Islamist rift in France is turning into a mass phenomenon.
"Radical Generation": the title of the report that Malek Boutih, PS deputy of Essonne (French department in region of Île-de-France) just submitted to the Prime Minister, and that Le Figaro has obtained, reflects its content well.  By the third line, he approaches his subject: "The analysis and prevention of radicalization and especially jihadism."  This is a political reading that the former president of SOS-Racism put together after the January attacks.  The report is not biased, and deals primarily with the Islamist breakaway of French youth, given that nearly 65% of individuals involved in jihadist networks are under 25 years old. The deputy ensures that his investigation confirms his premise: "The success of jihadist recruiters with the youth is based more on an adherence to an incoming political policy in tune with their international concerns and rejection of Western democratic society, than on a fundamentalist religious doctrine."  This is a result of: "Many young people are turning away from our model of society."
A Generation "On the Brink of Breaking Apart"
Globalization, September 11th, the war in Iraq, and the Israeli-Palestinian conflict left a mark on the young generation and shaped its world view, Malek Boutih notes.  But beyond these events, a new marker – "the development of a new kind of anti-Semitism" – is particularly worrisome.  "In the French districts, the 'double standard' between Jews who would be included and protected, and Muslims, who, on the other hand, are stigmatized and socially marginalized, met with a wide response, writes the deputy.  The old pervasive prejudices about Jews pulling the strings in world finance and media, are back.  Remarkably, these prejudices are very widespread among young people today, something that would have been unthinkable 20 years ago."
Discarding Democratic Values
"Society is perceived to be fully closed, one which generates a lot of frustration," Malek Boutih claims, a society that speaks of "frustrated youth, ready to lose it."  He goes further: "The set of values and the social order that barely hold together our Western democratic societies, do not provide a broad enough and secure framework for people to become anchored and attached to it (…).  The notion of Republic is incomprehensible, diluted in liberalism and modernity, and the feeling of belonging to a national community is very weak.  Now some of the youth discard these overly 'soft' values and seek to differentiate themselves from others."
Jihad, A Global "Solution"
Looking particularly at the increasing number of French youth leaving for Syria, the report's author believes that "Islamist radicalism is on the rise within our society," comparing it to the historic level of the extreme right. However, "faced with other radical offers targeting the youth, jihadism is ahead of the curve in both its political and theoretical implications, says the deputy.  For a young man or a young woman hungry for action, jihad is the obvious way.  It is not simply to satiate murderous urges or war cravings.  The theoretical dimension of jihad is the most complete in its rejection of democracy, in designating those officials to be eliminated, and finally in the recognition of an alternative model.  In the depths of the traditional political forces' ideological offer, jihad offers explanations and a global solution."  The irrefutable conclusion: "Jihadism is the radicalism that prevails today in the anti-democratic offensive."
More here in French. In English @ Vlad's