Really knowing what it feels like being treated as dhimmis.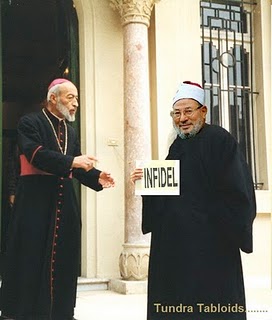 NOTE: And Obama has not ever really come out in defence of this minority, and don't think he'll be changing his tune any time soon either.
Iraqi Christians mark one year in Jordan after fleeing their homes
By Rula Samain – Aug 09,2015 – Last updated at Aug 09,2015
Iraqi Christians attend an ecumenical prayer held at the Latin Church in Fuheis, 20km northwest of Amman, on Saturday (Photo by Nader Daoud)
FUHEIS — Iraqi Christians who were forced to leave their country marked a year in Jordan away from their homes in an ecumenical prayer on Saturday.
"Life is hard on us. It has been like that ever since we were forcefully asked to leave our homeland, but we are thankful for Jordan's kind hospitality," said Firyal Bulous, a 48-year-old Iraqi said at the ceremony, which was organised by Caritas Jordan at the Latin Church in Fuheis.
Father Imad Alamat, a Latin Church priest, told The Jordan Times, that the ceremony is meant to bring all Christians of Jordan together and help make Iraqi Christians feel safe and at home "far away from home".
"We, the church, feel responsible towards the Iraqis who were forced to leave their country with nothing but the clothes on their backs. They are the result of religious hatred and segregation," said Alamat.
– See more at: http://www.jordantimes.com/news/local/iraqi-christians-mark-one-year-jordan-after-fleeing-their-homes#sthash.flhg58lm.dpuf
More here. H/T: Fjordman