Leftist indoctrination of the youth continues, with state funded anti-American propaganda clap trap.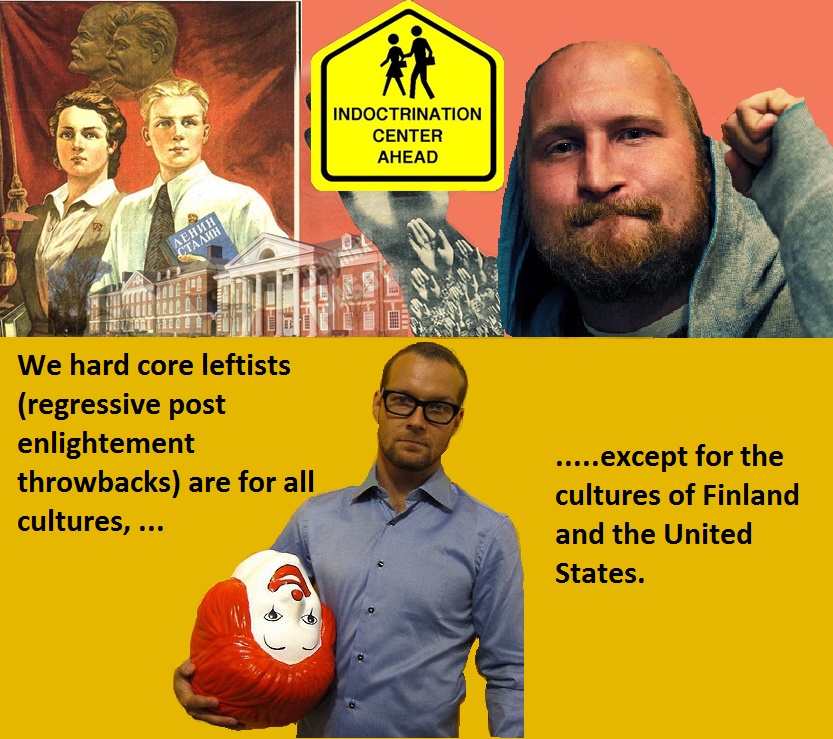 I call upon all free market minded individuals in Finland who reject destructive statism, and equally destructive multiculturalism to show civil disobedience and protest against the Kiasma Finnish Museum of Modern Arts in Helsinki for hosting this commie clap trap disguised as art, as well as outside the space of the "School for Disobedience".
What's interesting is that they still cast themselves as the outsiders looking in, when in reality, they're part and parcel of the system they say they're opposing.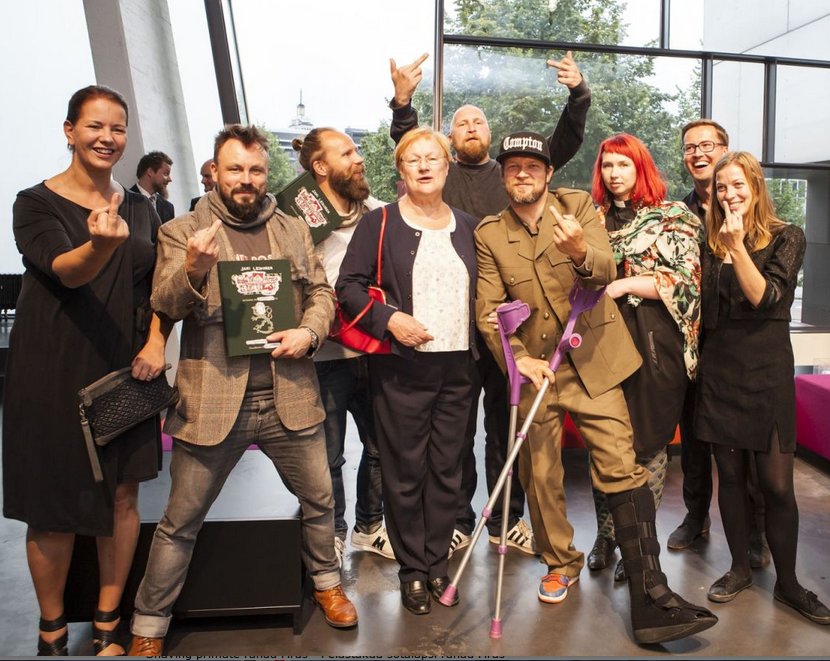 It's those who reject the destruction of nation state that are the outsiders, the one who are maligned by the media, political status quo and their black shirts of social activists like "Paleface" and the rest of the Left's miscreants and malcontents.
NOTE: Hani Leinonen places Ronald McDonald on a cross, obviously not worried about Christians storming his venue and tearing it off the wall, so they're "fair game". What a coward, no doubt that he'll keep far away from belittling Islamic symbols. A typical boneheaded leftist and faux social conscious artist.
Also, the Finnish rapper refuses to say "what kind of disobedience will be taught" to the youth that they manage to entice into their indoctrination center. Let's face it, this will be one more venue for marxists to send their kids for summer training.
School for Disobedience opens this autumn in Helsinki
How can disobedience change the world? This is the starting point for the Finnish Museum of Modern Art's upcoming School of Disobedience, an installation and programme of events designed to teach young people how to be social activists. The project is the brainchild of controversial contemporary artist Jani Leinonen and a "staff room" filled with cultural and political activists.
Disobedience is not generally something that's encouraged at school. Yet despite this, it's an integral part of ethical social activism, according to contemporary artist Jani Leinonen. He has recruited a team of experts to teach at Kiasma's  School for Disobedience, including Finnish rapper "Paleface", Green politician Li Andersson and Lutheran pastor Marjaana Toiviainen. The project includes a sculpture exhibition, film art and a lecture and workshop series aimed at teaching young people how to become social activists.
"The whole idea started from the fact that I was worried that maybe kids in schools are just too happy to take their place in society and fulfill the goals that are fed to them," says Leinonen. The idea is to teach them to be outspoken in their questioning of everything they see in the media, read and even what they're taught in school.
Despite this, school teachers are some of the keenest to register their classes to attend, according to Kiasma's sign-up sheet, and some classes have already been filled to capacity.
A popular time to get rowdy?
The recent spate of neo-Nazi marches, anti-racism rallies and social media debates on race and multiculturalism have put disobedience firmly in the limelight of late. In light of this, is the artists concerned that the tools he's offering might fall into the wrong hands?
"So, like it is with everything. You can use a hammer or a sickle to kill people or you can use it to build a better nation," he says. "It's not that we only have the tools, it's that we also teach how to use them."
Both the tools and the ethics of activism will be in the lessons, according to Leinonen. Classes will focus on such things as identifying social wrongs, shaping debate and using social media to rally support for a cause.
Activist rapper Karri "Paleface" Miettinen is also one of the teachers at the School for Disobedience. He says it can be dangerous to follow societal norms.
"War, genocide, slavery and all the worst things in the history of mankind are actually the result of obedience, rather than disobedience," Miettinen says, quoting US historian and activist Howard Zinn.
Multiculturalism is "not some terrible nightmare that's about to happen"
Miettinen recently took to the stage at Helsinki's "We Have a Dream" rally against racism. It drew over 15 thousand demonstrators to the city centre in response to Finns Party MP Olli Immonen's Facebook post inciting people to fight against multiculturalism.
"This is kind of minority thinking," says Miettinen. "The majority of Finns are ready to realise that we are actually a very multicultural, multilayered society already. It's not some terrible nightmare that's about to happen. We should open our eyes and realise that it's all around us."
The wordsmith sees music and lyrics as a way to change society. However, he admits that it's not always easy to pinpoint a concrete way to enact social change. However, included in the programme is a competition where people are encouraged to submit their own ideas for challenging the status quo, so the responsibility doesn't all lie with teachers.
Changing society – or at least offending it
For Leinonen, it's about the power of the masses. He points to the general strike in 1905 that ultimately led to universal suffrage and the abolition of censorship, or the 1960 protests that led to labour reforms and social change.
"It's not heroic politicians that change the world, even if history writes it that way," Leinonen says. "It's actually citizens' movements that change big things."
Whether or not the artist's efforts will change the world, Jani Leinonen's showcase at Kiasma does little to pander to social acceptability. It includes various anti-capitalist artworks and a series of mock television commercials. The ads feature American cereal box character Tony the Tiger encouraging people to fuel up on a healthy breakfast before engaging in police beatings, prostitution and suicide bombings.
Kidnapping clowns and running for Parliament
Leinonen himself is not known for his penchant for good behaviour.
His kidnapping of a Ronald McDonald statue taken from a Helsinki McDonald's made international news headlines in 2011 after he posted an Al-Qaeda style ransom video demanding that the multinational fast food chain account for the sourcing of its food and unethical labour practices. When the multinational refused to comply, Ronald was given the chop with the aid of hooded men and a guillotine mimicking the forms of Finnish designer Alvar Aalto.
More recently Leinonen gained the attention of the international press when he ran for parliament in Finland under the slogan "I am Leinonen". He promised to bypass the failures of representative democracy by letting people vote directly on individual issues online as they arose in Parliament, subsequently casting his vote according to the majority of responses.
Perhaps fortunately for his other projects, Jani Leinonen didn't get elected to the Finnish Parliament.
The School for Disobedience opens at the Finnish Museum of Contemporary Art, Kiasma in September.
NOTE II:
"It's not heroic politicians that change the world, even if history writes it that way," Leinonen says. "It's actually citizens' movements that change big things."
A simple minority has always changed society for either the good or bad, that's a fact, and this movement is bent on changing it for the bad, in an "ends justifies the means" kind of way. Traditional Leftist thinking.