What opinion are you ? (keep it nice)
To really show their true respect for the fallen soldiers who died protecting the Finnish state during WW II against the (then) Soviet Union, they should have had heads bowed, in a classic "Finnish way" of showing respect. That they chose to do otherwise tells me that "respect" was not in the forefront of their minds, or at most, a distant thought to their way of thinking.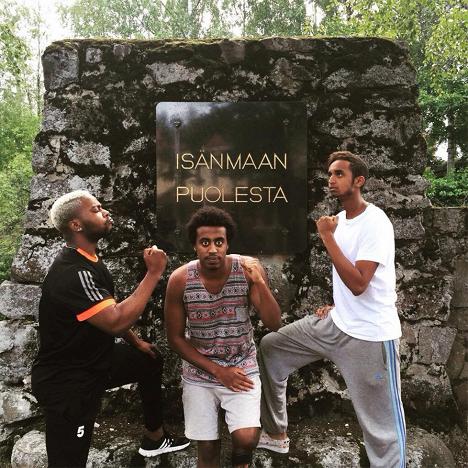 This is the image "on behalf of the Fatherland" monument that gave rise to rage – "Racist comments don't hurt"
Black entertainer, Prince Yusuf added to his Facebook page an image, in which he poses with two friends at a patriotic monument. The image has given rise to a storm of racist hatred: some commentators would like for the immigrants to die.
Entertainment Artist Prince Yusuf moved from Ethiopia to Finland as a 2-year-old. Currently, he is 24 – Although I am in some way a foreigner in this country, so I'm still as Finnish as can be, and is unaffected by skin color in any way.
I've lived here almost all my life, Prince Yusuf says to the Ilta-Sanomat.
The idea for the image was created when the artist was with his friends at the cottage in Jämsä.
They saw on the way "on behalf of the Fatherland" a monument bearing the text and decided to pose in front of it.
YLE:  Racist abuse row
The tabloids this morning both carry news of a storm of racist abuse on social media, coming in the wake of the recent row over a prominent MP's call for a "fight to the end" against multiculturalism.
At the centre of this incident is the Ethiopian-born entertainer Prinssi Jusuf, who late last week posted a photo on Facebook of himself and two friends posing in front of a Finnish war memorial emblazoned with the words "On behalf of the fatherland".
The fact that Jusuf and his two companions are all black was evidently too much for many people seeing the picture, who "unleashed a torrent of online racial abuse," according to Ilta-Sanomat. This included a string of death threats as well as racist language, and accusations that Jusuf, who was brought to Finland aged two and has completed military service for Finland, was mocking the country's war veterans.
Jusuf tells Ilta-Sanomat: "Just because someone has a different skin colour to the majority here doesn't mean they can't give all they can for the country's benefit. I think it's stupid to suggest that, were something bad to happen here in Finland, someone with different coloured skin would turn and do a runner."
Meanwhile Iltalehti asked the head of the Finnish Veterans' Association whether he was offended by the photo. "I don't see any problem with it at all," he says, adding that there's nothing wrong with people of different backgrounds being proud of this country and its war veterans.