Hopefully somewhere a drone has a bomb with this twerp's name written on it.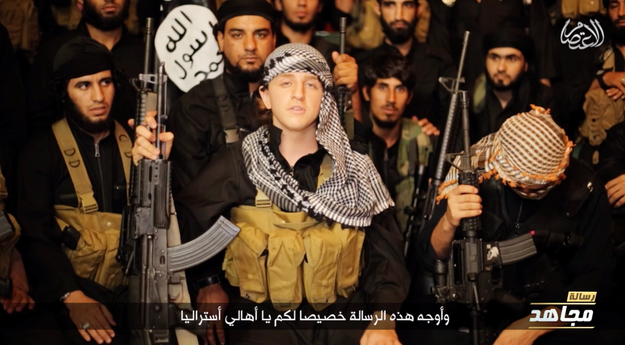 Terrorist's sick propaganda for British Muslims: ISIS make a series of boasts about attack on UK soil
ISIS militant known as 'Ginger Jihadi' bragged about attacks to journalist
He said they would not stop until ISIS flag flies over Buckingham Palace
Abdullah Elmir said British jihadis are 'itching' to carry out London attack
An English jihadi wrote online guide on how to carry out a lone wolf attack  
Islamic State terrorists have made a series of twisted boasts about launching terror attacks on UK soil.
Last month, Abdullah Elmir – dubbed the 'Ginger Jihadi' because of his long red hair – bragged to an undercover Mail on Sunday reporter that IS would not stop their murderous campaign until its flag was flying over Buckingham Palace.
It followed the online circulation of a series of terror manuals providing step-by-step instructions on how to launch 'lone wolf' attacks in the UK.
Islamic State terrorists have made a series of twisted boasts about launching terror attacks on UK soil (file photo)