It's already happening, because Islam 101'ers are feeling optimistic and feckless leaders in the West are, well, feckless wonders.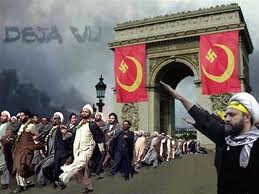 'The outbreak of World War Three by terrorists' is near, warns Iranian official – who blames the US and NATO 'invasion' of Afghanistan for fostering extremists
A senior Iranian official has warned of an impending 'third world war'
Akbar Hashemi Rafsanjani said it would be sparked by threat of terrorists
But he blamed U.S. and NATO for fostering conditions in which they thrive
Nations across the globe will soon be engulfed by a 'third world war' sparked by terrorists, a senior Iranian official has warned.
Akbar Hashemi Rafsanjani, the chairman of Iran's powerful Expediency Council, made the claim during a meeting with a senior Italian politician this week.
But despite stating the war will be triggered by terrorists – he claimed blame will lie solely with the U.S. and NATO for their invasion of Afghanistan.
According to Iran's Far News Agency, Rafsanjani told Italian Foreign Minister Paolo Gentiloni: 'The threat of the outbreak of the third world war by the terrorists is serious.
'The US and the NATO had invaded Afghanistan to uproot terrorism and narcotics, but we saw that terrorism expanded in the form of the ISIL, Boko Haram and Al-Nusra Front to remote parts of the world from Al-Qaeda and Taliban in Pakistan and Afghanistan.'
He later called on Western nations to stop their 'support' of terrorist groups in the region.
Although it was unclear what groups he referred to, the U.S. and Iran have aligned themselves with opposing ethnic groups in several conflicts throughout the Middle East.
Currently Yemen's Iran-backed Houthi insurgents are fighting their exiled government in the face of Saudi Arabian backed coalition. The Saudis remain a key Middle East ally of the U.S.
Despite the U.S.'s historic breakthrough in nuclear negotiations with Iran last month, the two countries' diplomatic relations have yet to cool.
While they have found themselves on the same side in the fight against ISIS throughout Syria and Iraq, the countries remain at loggerheads over many issues.