Another real Republican, meaning, a true American.
EXCLUSIVE: JEFF SESSIONS LAYS OUT AMERICA'S MANDATE FOR GOP DEBATES ON IMMIGRATION, TRADE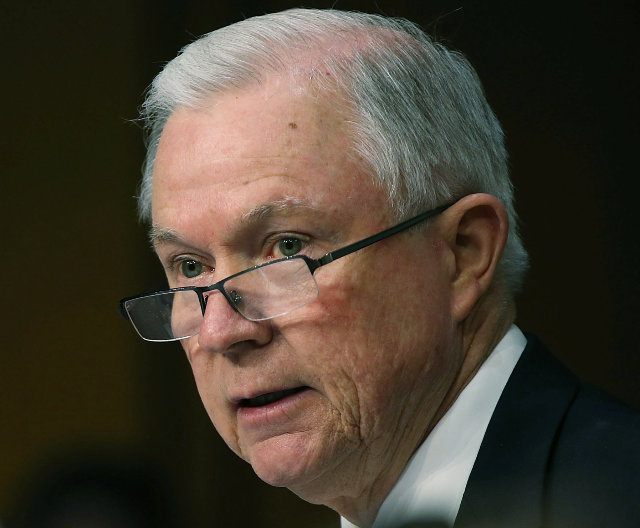 Mark Wilson/Getty Images
CLEVELAND, Ohio — Sen. Jeff Sessions (R-AL) 80%, the chairman of the Senate Judiciary Committee's subcommittee on Immigration and the National Interest, told Breitbart News in a wide-ranging exclusive half-hour-long interview via phone on Wednesday that the first Republican debate for the GOP nomination for president in 2016 should hone in on the candidates' stances on not just illegal immigration but all immigration policy—and on trade policy.
Sessions, who's widely viewed as the intellectual leader of the Republican Party, told Breitbart News that if Republicans first hash out immigration correctly, they will be able to run the tables and drive the Democrats from the White House.
"There's no issue that will bring in more new voters to the Republican side than immigration," Sessions said. "Our nominee needs to be crystal clear that we will end the illegality and we will produce an immigration system that serves the interest of the American citizens and that we can be proud of. The American people want to hear that. They have a right to hear that. Politicians have been promising that for decades and it's time for somebody to deliver on that. So I think that will attract new voters."
High immigration levels and "unwise trade policies," Sessions said, have contributed directly to the severely lowered wages and workforce participation rates—perhaps the worst since the 1970s. It's up to the next Republican nominee—and the GOP as a whole—to convince Americans they will actually fix this problem rather than kicking the can down the road again.
"Wages are down over $3,000 from the recession in 2008, we've got the lowest percentage of Americans working since the 1970s, wages are stuck at 1970s levels, we've had this huge flow of immigrants and we've had unwise trade policies," Sessions said. "Those things, the American people instinctively know, have been adverse to their financial well-being. They want to see their leaders speak up on them. I think that the Republican nominee should say something like 'we are looking at these numbers too, and they're bad. I understand your concerns. We can get a trade policy that ensures fairness and reciprocity and that are not one-way agreements and that we can and will establish an immigration policy that serves your interest and is honorable and we can be proud of.'"