Paramilitary website, really?
Anyone following the GOV (for years) knows fully well that it's just website dedicated in the telling of the truth about islam, islamization, multiculturalism, the piece by piece destruction of the nation state and about political correctness that acts as a buffer/straight jacket for any criticism of the political elites' agenda.
NOTE: The cartoonist, Bosch Fawstin, has a timely observation: The Only reason we're talking about Islam is because of the daily death & destruction that's being committed in its name by devout Muslims, yet non-devout Muslims want us to only talk about its non-existent "positive" aspects, so they can feel better about being part of an evil religion.
MPs call for 'anti-Muslim paramilitary manual' website to be investigated
Far-right Gates of Vienna website is also promoting upcoming London exhibition of Muhammad cartoons which it is feared is intended to incite Islamist violence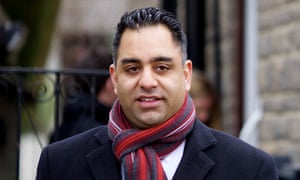 Imran Hussain, one of six Labour MPs calling for action to be taken 'if anyone involved [in the website] is deemed to be promoting terrorism and civil disorder'. Photograph: Christopher Thomond for the Guardian
Jessica Elgot
Monday 27 July 2015 18.46 BST Last modified on Monday 27 July 2015 19.10 BST
A group of MPs have called for an investigation into a far-right website described as a training manual for anti-Muslim paramilitaries – amid fears that an upcoming exhibition of cartoons of the prophet Muhammad in London is designed to incite Islamist violence.
The Gates of Vienna website has been heavily promoting the exhibition, which is understood to feature the same drawings shown in Texas in May when two gunmen attempted to storm the event and were killed by police.
It has been organised by the former Ukip parliamentary candidate Anne-Marie Waters and is set to take place at a location in central London on 18 September with tickets priced at £35. Organisers say among those attending will be Geert Wilders, the Dutch rightwing politician who has espoused controversial views on Islam.
In a report on the so-called British counter-jihadist movement, published on Monday, the anti-fascist group Hope Not Hate called for the exhibition to be banned.
Nick Lowles, Hope Not Hate's chief executive, said: "Our concern is that the event is intended to provoke a reaction from British Muslims. It is not about freedom of speech, it is about incitement. The authorities cannot allow this event to go ahead. Communities shouldn't rise to their bait, we must stand together as a show of strength."
Lowles also said he had serious concerns about material published on the Gates of Vienna website. The site – the name of which refers to a 1683 battle between European forces and the Ottoman empire – contains detailed descriptions of how anti-Muslim paramilitary groups could operate during a conflict with European Muslims.
One entry is a fictionalised account of a predicted race war, described as "a hard look at the near future in Britain", with a section entitled "A guide to amateur bomb-making". Waters is a contributor to the site and has written a lengthy post about the London exhibition.
Lowles said he believed the site was hosted on British servers. "If a Muslim had a similar website, which includes bomb manuals and details about assassinations and establishing paramilitary groups, then you can be sure action would be taken," he added.
The Labour MPs Ian Austin, Ruth Smeeth, Imran Hussain, Paula Sherriff, Wes Streeting and John Cryer have written to the director of public prosecutions, Alison Saunders, asking her to consider if the site's owners are breaching the law.
The letter reads: "It is clear that these are the ideas that inspired Norwegian mass murderer Anders Breivik and as such it is deeply troubling that they are available to inspire others. We would urge you to investigate the Gates of Vienna website and take appropriate action if anyone involved is deemed to be promoting terrorism and civil disorder."
NOTE II: The GOV article mentioned in the Guardian piece fails to mention this portion up at the top of the said article:
This is the third of a five-part series by El Inglés comparing and contrasting the Troubles in Northern Ireland with the coming Muslim Troubles in Britain. Previously: Part One and Part Two.

For those who are new to this series: El Inglés' analysis is descriptive, not normative. This is not advocacy for what is being described, but rather a hard look at the near future in Britain.
We already see what's happening in Muslim dominated Malmö, the grenade exploding capital of Sweden, this was just an analytical look at what will bound to happen if the situation in the UK is not reversed.