If the fellow activist's depiction on what happened is to be believed, what took place was like a scene right out of the movie, Missippi Burning.
Whatever your opinions are on the confederate flag (presently an issue pursued by the media to take the public's eye away from larger issues), everyone has a right to voice their views no matter how intolerant, or factual.
ANTHONY HERVEY, BLACK CONFEDERATE FLAG SUPPORTER, DIES IN SUSPICIOUS CAR WRECK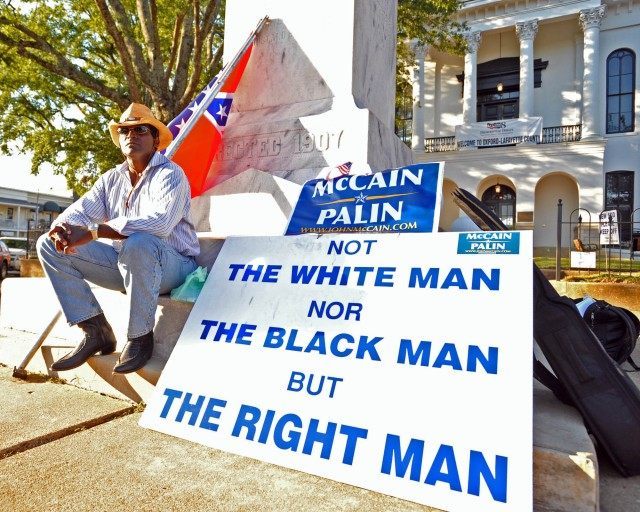 AP Photo/Ryan Moore
A black activist who defended the Confederate Flag died Sunday when the vehicle he was driving overturned, and another black Confederate flag defender who survived the accident says the vehicle was forced off the road by a group of young black men.
Anthony Hervey was killed Sunday on Mississippi Highway 6. Hervey was well-known in his hometown of Oxford for wearing a Confederate uniform and supporting the Confederate flag.
In this 2014 video, Hervey discusses the Confederacy and his views on history and the Civil War.
Although the ABC News headline reads Black Mississippi Flag Supporter Dies in Traffic Accident, the survivor claims it was no accident.
As ABC / AP report in the body of the story:
A passenger in Hervey's car, Arlene Barnum, tells The Associated Press that Hervey swerved and crashed after another vehicle carrying four or five young black men pulled up alongside them, yelling and looking angry. Barnum said Hervey yelled something back at the other vehicle before losing control and crashing.

"It spun like crazy and we flipped, flipped, flipped. It was awful," she said.
At 11;25am Barnum posted to her Facebook page.
HELP.. They after us. My vehicle inside down.
At 11:28, she posted:
Anthony Hervy pinned in ., gas leaking
Barnum and Hervey were returning from a Saturday event to save the Linn Park Confederate Monument in Birmingham, Alabama.
In a video on her Facebook page posted Sunday evening, Barnum says that nobody hacked her Facebook account and that she survived the accident.