Which proves the point all along, reacting to his "inner male" he chooses violence over words.
BEN SHAPIRO FILES POLICE REPORT AGAINST TRANSGENDER REPORTER ZOEY TUR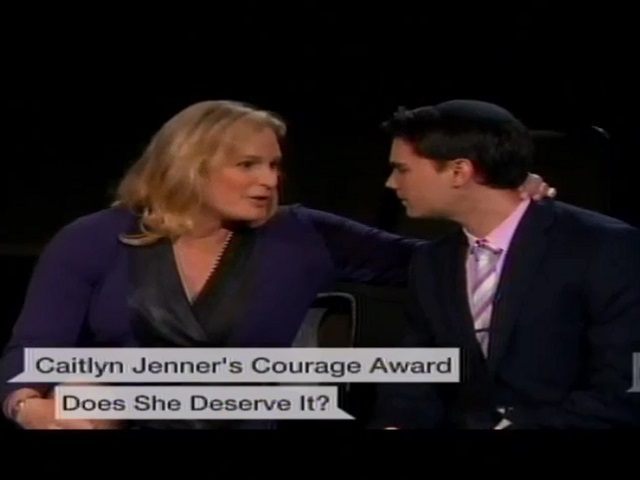 Breitbart News Senior Editor-at-Large Ben Shapiro has filed a report with the Los Angeles Police Department alleging battery against transgender Inside Edition reporter Zoey Tur, née Robert Albert Tur.
Shapiro filed the report Sunday morning, two days after a contentious exchange with Tur on the HLN program Dr. Drew. On a panel discussion over Bruce Jenner's receipt of ESPN's Arthur Ashe Courage Award, Tur grabbed Shapiro's neck and growled, "You cut that out now, or you'll go home in an ambulance." Shapiro later alleged that Tur had threatened him after the appearance, "I'll see you in the parking lot," and that CNN security had escorted Shapiro to his car after ensuring Tur had left the premises. Tur also tweeted out on Friday that he would like to "curb stomp" Shapiro.
Tur's threats against Shapiro followed Shapiro arguing that referring to transgender people by their preferred instead of biological sex is "mainstreaming delusion." Of Jenner, Shapiro declared, "How he feels on the inside is irrelevant to the question of his biological self." After Tur suggested that Shapiro knew nothing about genetics, the following exchange then occurred:
Shapiro asked if the discussion was supposed to be on genetics and asked, "What are your genetics, sir?" Pinsky said to Tur, "I'd stay away from the genetics and back to the brain scans."

Tur then said to Shapiro, "You cut that out now, or you'll go home in an ambulance." Shapiro responded, "That seems mildly inappropriate for a political discussion." Oduolowu said that, to be fair, Shapiro was being rude, to which Shapiro answered, "I'm sorry, it's not rude to say that someone who's biologically a male is a male." Tur stated, "You just called me a 'sir.'"

After some of the other panelists, particularly radio and "Chain Reaction" host Mike Catherwood, objected that Shapiro knew that what he said would be "insulting" and "inflammatory." Shapiro responded, "It's not a matter of insulting or inflammatory. It's a fact. You are a male. Dr. Drew is a male."