I've decided that a Rubio presidency not to be the strongest/wisest of choices, that said, perhaps (a big maybe) being a VP would suffice. He hits the right buttons on Israel's special relationship with the U.S., in fact he's spot on, but he's clearly been influenced by the same bozos Dr.Andrew Bostom has been battling where Iran is concerned. Read the following:
Iran's people are the most pro-American public in the Middle East, and they should know that the United States will always stand up for their rights. One of the great tragedies of the Obama/Clinton record on Iran has been the silence.  Silence during and since the Green Revolution that nearly overcame clerical despotism in June 2009.  Silence for fear of offending the very officials that oversee abuse and terror that Obama administration officials now proudly praise as "patriots."
The "Soylent Green" revolution was not what it seemed, as Bostom described at the time, and over the years as the leaders of the "Green Movement" have truly let known what they believe. Time to end this nonsense once and for all.
EXCLUSIVE — RUBIO: CLINTON IS NO MORE READY FOR THE CHALLENGE OF IRAN THAN OBAMA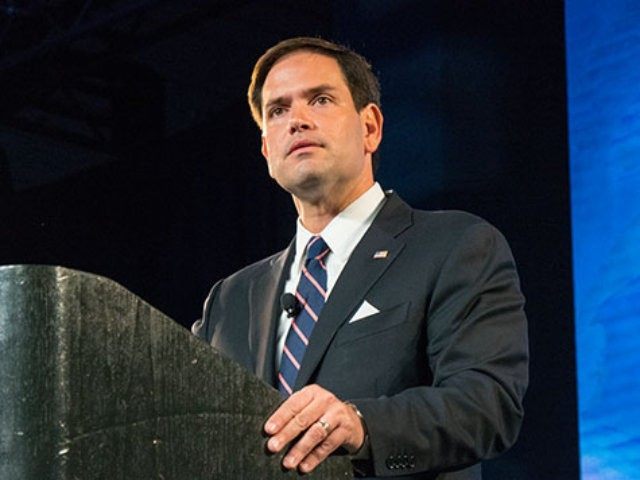 Dan Fleuette / Breitbart News
The following op-ed was written by and submitted exclusively to Breitbart News by Sen. Marco Rubio (R-FL) 80%.
After years of negotiations and repeated concessions, the Obama administration has now concluded an agreement that leaves Iran, the world's foremost state sponsor of terrorism, as a nuclear threshold state.
The accord concedes a vast enrichment capacity; punts on the question of previous military experimentation with nuclear technologies; accepts both a heavy water plant as well as a hardened underground enrichment facility; and envisions a ramped up Iranian research and development program.
In several years, Iran could be free of a multilateral arms embargo just as its terrorist agents are flush with cash and expanding their illicit efforts around the globe.
The agreement has a limited duration and once it expires (if Iran has not already cheated) Tehran can dash to the bomb. If I am elected President I will abrogate this dangerous agreement and force Iran to permanently end its nuclear ambitions.
For decades, Republican and Democratic presidents have consistently attempted to deter our adversaries and persuade our allies not to pursue sensitive nuclear technologies. The Obama administration's flawed deal with Iran contravenes almost seven decades of U.S. nonproliferation policy and takes the world in the opposite direction from President Obama's 2009 aspiration in Prague of "a world without nuclear weapons" toward a highly proliferated Middle East and a more dangerous world.
As President, I would strive for the closure of Iran's nuclear program as opposed to the mere conditioning of its nuclear activities. Iran would be forced to stop subverting its neighbors and threatening Israel. Human rights would assume a higher place in any negotiations—as part of any agreement Iran would have to honor international norms on treatment of its citizens.
When I enter the Oval Office, I will act quickly to undo this agreement.  I will reinstate the principle that has long guided American policy, namely that Iran cannot have mastery of dangerous nuclear technologies. I will reimpose the sanctions waived by President Obama and work with Congress to impose new crushing sanctions on Iran's leaders for their brutal human rights abuses and ongoing support for terrorism.