Non-ethnic Swedes.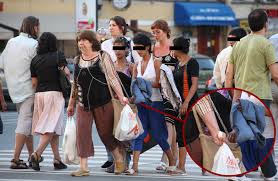 In order to be vigilant, you have to be profiling non-ethnic Swedish persons, such as Gypsies
Swedish police are urging people to be vigilant. Photo: Jessica Gow/TT
Published: 08 Jul 2015 08:02 GMT+02:00
They spill something, brush past you or get an accomplice to offer a distraction before disappearing with your phone or your wallet. Pickpockets are getting increasingly common in Sweden, which typically has a strong reputation for personal safety and low crime levels.
According to the Swedish Crime Prevention Council (Brå), 53,355 cases of pickpocketing were reported across the country in 2014, up from 38,525 in 2000.
"This is a very large increase, which is not in line with the population increase," Linn Brandelius, a statistician at Brå told Swedish newspaper Svenska Dagbladet.
The Stockholm area saw the biggest rise, with cases jumping from 15,700 to 24,606 over the same period.
This summer, police are warning people to be extra vigilant in tourist hotspots such as Gamla Stan (Stockholm's Old Town), where pickpockets can hide in the area's narrow alleys before roaming the busy cobbled streets, on public transport and around ticket machines for the city's subway.
"They [pickpockets] follow someone to see where he or she keeps his wallet. Then they cause some type of diversion, so that they [the victim] doesn't really have time to pay attention to what is happening," Kia Samrell, a police inspector in Stockholm, told Swedish newspaper Svenska Dagbladet.
She added that it can be very difficult to spot thieves.