Brave lads.
The article states that they were murdered for telling the truth, but as we well know about Islam, truth is not a defense when talking about Islam and Islamic figures and its norms. The same can be said of the supposed rule of law in Finland, where MP (not at the time) Jussi Halla-aho (Finns Party) was prosecuted for "hate speech", for pointing out in a blog piece the inconsistencies and arbitrary prosecution by the state of native Finns for pointing out how the native population can be impugned in print and speech (no matter if it's true or not) but nothing similar can be said about the immigrant community.
Syria: New Video Shows Militant Group Executing Two Media Activists for Distributing Anti-Isis Brochures in Raqqa
By Johnlee Varghese  July 6, 2015 17:56 IST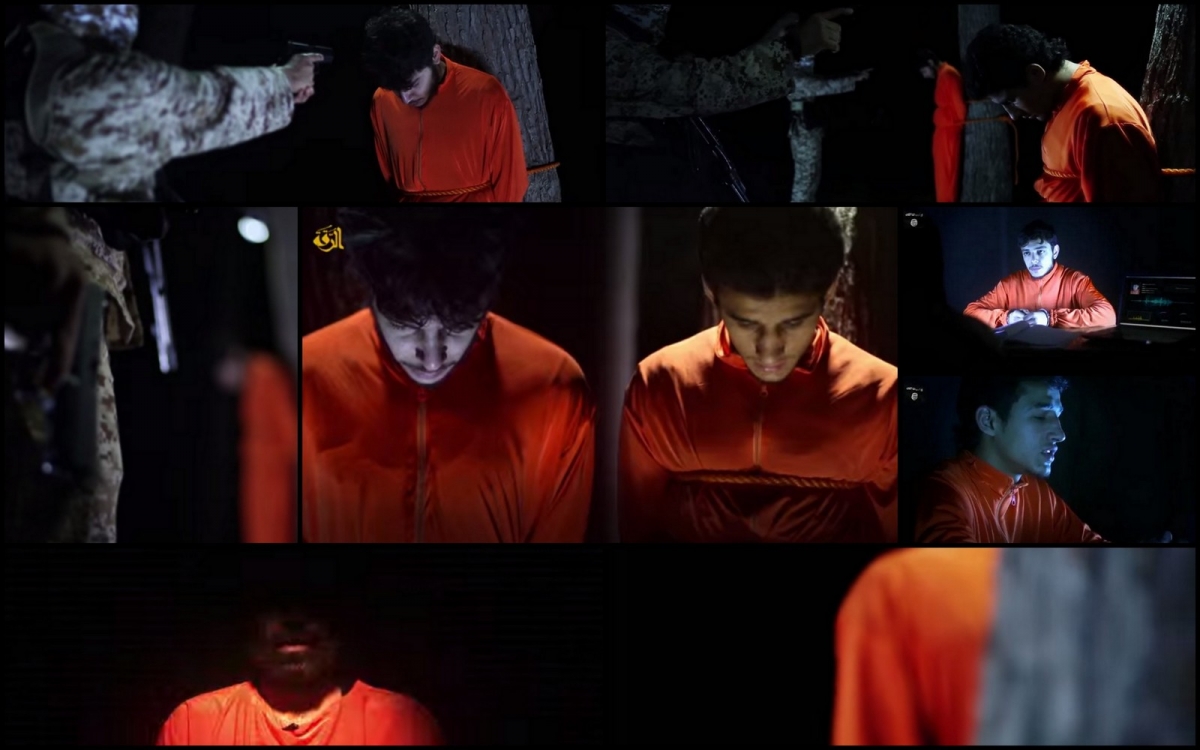 The Islamic State (Isis) militants, in a new execution video that was released on Sunday evening, has shown how it killed two young men in Syria for distributing anti-Isis brochures that criticised the Sharia law imposed by the Muslim extremists in Raqqa.
The nearly 7-minute-long video, titled 'They are the Enemy and This is a Warning', starts with an Isis fighter interrogating the two Raqqa youths, accusing them of spying and spreading false propaganda against the jihadist group. The Daily Mail, in its report, noted that the two youths were executed for speaking the truth.
The video starts with a lengthy confession, in which the two media activists, identified as Bashir Abdel Azim and Hassan Habib Faisal, wearing orange jumpsuits, list out their crimes against Baghdadi's caliphate.
The duo were then forced to reveal how they used to spy on the Isis militants. The two young men confessed that they distributed anti-Isis brochures, criticising the Sharia law imposed by the Sunni group.
The two also reveal that they have monitored the activities of the Iraqi regime and were paid $400 for shooting pictures of oil wells around Raqqa province. They said they gathered "intel" by travelling around the city on motorcycle and cars.
The high-quality Isis video, which contains several closeup shots, then moves to the final execution scene, where the duo is seen tied to a tree trunk.