The Sea Hitlers to land in Ashdod.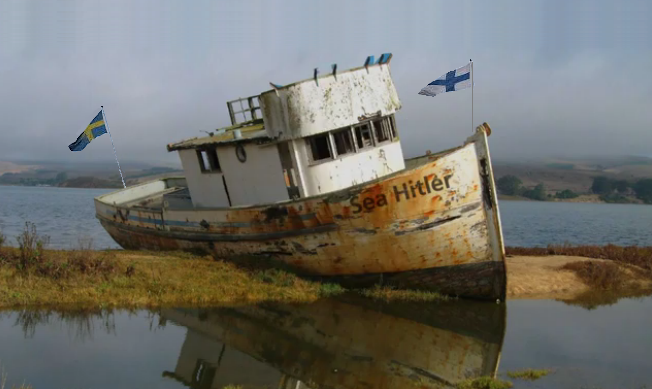 To be emptied of whatever they're carrying (all of which could have been handled by land) and sent packing. Hopefully the Israeli government impounds all their sailing crafts.
IDF Intercepts #FreedomFlotilla, or at Least What Was Left of It
Published: June 29th, 2015
Overnight, the IDF intercepted and took control over the flotilla to Gaza around 2 AM.
It wasn't actually much of a flotilla, as 3 of the 4 boats had already turned around and the Swedish-registered Marianne of Gothenburg was sailing alone to Gaza.
The IDF Navy, in accordance with international law, told the ships to change directions a few times, to prevent the breach of the maritime blockade on Gaza, and they refused. The blockade is in place to prevent weapons and war material from reaching Hamas and other terror groups in Gaza via the sea.
The IDF boarded and searched the Swedish-registered Marianne of Gothenburg, and are currently escorting it to Ashdod port.
The IDF says the operation was done without incident and there were no injuries.
It's expected the activists on the boat will be deported upon arrival. If they actually had any humanitarian aid on board, that could be sent to Gaza through one of the open land channels.
Among those on board are reporters, a former Tunisian president and an Israeli-Arab MK.