Doesn't surprise me one bit, Erdogan has had his long knofe out for Assad for as long as I can remember.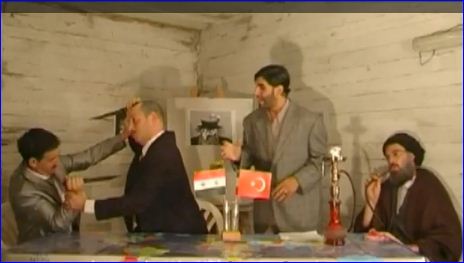 H/T: Fjordman
Turkey: Cumhuriyet, Turkish 007 drivers for IS in Syria
Fresh revelations on Turkish cooperation with jihadists
 ANKARA – Turkish newspaper Cumhuriyet provided fresh revelations on the involvement of Mit secret agents alongside Isis jihadists in Syria.
The opposition paper reported today that, on January 9 2014, two buses escorted by Mit agents picked up 72 militiamen belonging to the armed jihadi group in the camp of Atme in Syria.
The title on Cumhuriyet's front page today is 'Kirli Operasyon', 'Dirty operation'. Bypassing the line of combat between Kurdish fighters and terrorist jihadists in Kobane, the Turkish 007s scorted the latter up to the border town of Tel Abad, where the men of 'caliph' al-Baghdadi were launching an offensive.
The international press, the Turkish opposition, the Syrian government, as well as Syrian Kurds have all accused Turkish president Recep Tayyip Erdogan of aiding armed jihadi groups Isis and Al Nusra in the hope of toppling president Bashar al Assad and replacing him with a Muslim Brotherhood-led government. Cumhuriyet recalled that, in the past few days, US president Barack Obama criticized Turkey once again for failing to halt the flow of aspiring foreign jihadists towards Syria and Iraq.