Once Muslim demographics reach a certain level, this kind of abusive intimidating behavior becomes the norm.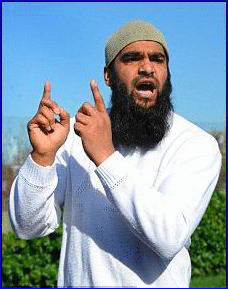 Muslim father is jailed for 27 months for attacking headmaster and racially abusing teachers in row over school ban on beards
Mohammad Liaqat became enraged after two pupils were banned from lessons after refusing to shave off their facial hair
The 34-year-old also launched a racist tirade at another Catholic school in Lancashire and 'shoulder barged' the head teacher
QC has also banned him from going within 100 yards of four schools
Lancashire policeman described Liaqat's behaviour as 'completely unacceptable'
Mohammad Liaqat, pictured, has been jailed for 27 months after a racist tirade on two Catholic schools
A Muslim father has today been jailed for more than two years and branded a 'bully' after he stormed into a Catholic school and abused a head teacher over a religious row about beards.
Mohammad Liaqat also shoulder barged a headmaster at another school in a racist tirade in front of parents, who were picking up their children.
The first incident happened at Mount Carmel Roman Catholic High School in Accrington, after two 14-year-old Muslim pupils were banned from lessons for refusing to shave off their beards.
Liaqat, 34, was angered by the decision, despite his children not actually being involved in the case and the matter had also been resolved.
During the rampage he hurled insults at white teachers in front of the shocked.
He was ordered to stay away from the school after being arrested over the incident, but went on to continue his rant at another school close by.
Burnley Crown Court heard he later turned up at St Oswald's RC Primary School, also in Lancashire, where another of his children was a pupil.
He approached headteacher Jeff Brown and embarked on yet another racist rant.
When Mr Brown asked him to leave, Liaqat assaulted him.
Jailing him, Recorder Anthony Cross QC, said that Liaqat was a 'bully' after a three-week trial found him guilty of racially-aggravated threatening behaviour and an assault charge following a three-day trial at Burnley last April.
Mr Recorder Cross also issued a restraining order against the defendant banning him from contact with staff at four schools in the Accrington and Burnley areas.