They really do hate this woman.
Great to have someone who really understands about Islam and warns about it, the Left and their Muslim pals have their shorts in a knot over it.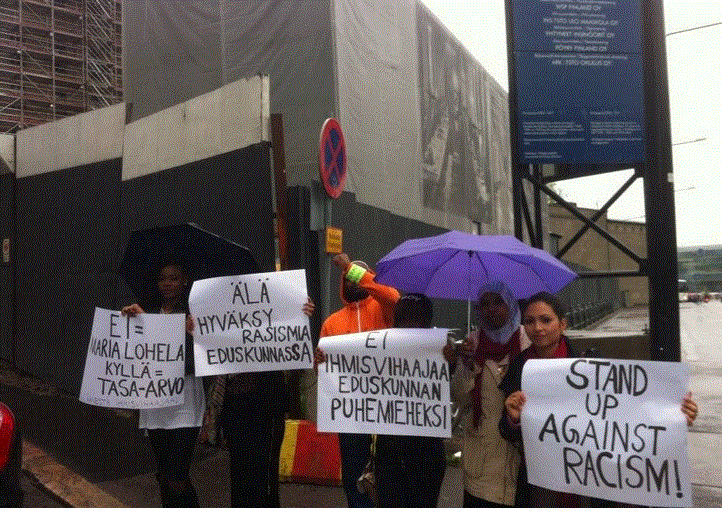 Speaker of parliament
Selecting Maria Lohelan (ps.) Speaker of Parliament and the opinions of the True Finns municipal politicians anger and upset immigrants in the country. Several Finnish somali organizations have today sent a joint petition that the new government is to denounce racism and hate speech.
In addition, Ana María Gutiérrez Sorainen who moved to Finland in 1992 warns that Finland's image will decline elsewhere due to recent personal choices. She refers directly to Maria Lohelan's appointment as President.
-How Is it possible that in a civilized country Finland has a parliamentary President, who does not accept the constitutional right to practice religion freely, including Islam? How can Lohelan's appointment be agreed with the government's program that racism is not to be allowed? How is this possible? My question is for Alexander Stubb and Juha Sipilä, who speak openly about all kinds of citizens from Finland, she writes in her blog.
Centre Party parliamentary election candidate with a somali background, Abdirahim "Husu" Hussein, in turn, opens with the somali organization petition .
-Last few days we have read in the media of the True Finns municipal politicians' statements, which one proposes about refugees accompanied with children from Africa to Finland, should be restricted to three. This would require the Helsinki City Council Deputy Commissioner to believe that African men be forced with sterilization. Proposer believes that large families of immigrants belie the Finnish social security, he commented on the petition on his blog.
He reminds us of the True Finns as saying the electoral program of humanitarian immigration must be reduced and the integration of persons residing in Finland to keep improving.
More here in Finnish
Boo flipping hoo hoo hoo.