A Turk major in astrophysics, starts reading a koran, then leaves to wage jihad.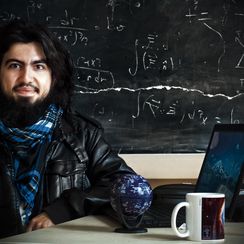 H/T: Vasara Hammer: This Turkish guy was a student of astrophysics. Now he chops heads for Allah.
Rasid stepped up his postings in September 2014. In that month, he entered a master's programme at the rural Finnish university of Jyväskylä, where his posts about jihad mixed uneasily with stunning long-exposure shots of Finland's Northern Lights he shared on Facebook. At a local mosque, he began an unsuccessful attempt to recruit locals to join Isis. "We debated against his false theology every day," Mohamed Ahmed Haji Omar, a Somali-born resident of Jyväskylä, tells Newsweek. "Time and again, he tried to show the youth here videos about Isis."
Journey to Isis: from astrophysics student to shell-shocked Islamist fighter
The night Rasid Tugral vanished from his home in the Turkish capital of Ankara, the 26-year-old packed no suitcase, stuffed less than €100 of cash into his pockets and left his treasured DSLR camera to gather dust on the bedroom floor.
For three months, it seemed the astrophysics student had simply disappeared from Turkey's elite Middle East Technical University, where he was known as a raffish extrovert with a love for astrophotography and the works of cosmologist Carl Sagan. But in March this year Rasid posted to his Facebook a sprawling, 14-page diary chronicling life among militants of the self-declared Islamic State, or Isis. The diary provides a unique glimpse into the everyday miseries of life in Isis-held Syria and the psychological toll of air strikes on new recruits.
The diary also highlights Ankara's continued silence over the growing number of Turkish citizens joining Isis. A month and a half after the diary's posting, scant media attention has been levelled at Rasid's transition from student at "Turkey's Harvard" to a village near Homs in Syria, or to the alarming freedom enjoyed by the Turkish-language jihadi websites that helped lure him there.
Finnish journalist, Juha-Pekka Tikka reports on it in Finland's Verkkouutiset.fi:
He was an ISIS Recruiter in Finland, interrogated by SUPO- then left to fight
26-year-old Rachid Tuğral left from his Jyväskylä Master's studies for the fighting in Syria.
Newsweek published the story of Turkish Rachid Tuğral. He is a 26-year-old astrophysics student, as well as photography and space enthusiast who disappeared from studying in Finland, and went to fight for the Islamic State.
Finland torikokous.fi reported about him, and interviewed him under the name of Rahim on 14 April. At that time he said he was in Raqqa Syria.
In Newsweek, Tuğral is said to have changed in 2014, when he joined a group studying the Koran. His relatives say that the man adopted the text as being literally true.
In the spring of 2014 a second study member joined ISIS, and began to share on the Internet with Tuğral jihadist videos. Tuğral distributed them himself for the first time in July 2014.
In September 2014 the Ankara METU University student moved to Jyväskylä to do his master's theses. He has filled his Facebook web pages with adoring images of the northern lights and Jyväskylä scenery. He announces that Jyväskylä is still his place of residence.
His Islamist programs and writings do not appear in his Facebook pages today,  that Turkish newspapers have reported on.
From the satart of September 2014 he says Jyväskylä is one of the most beautiful places in sight. Since then, his Facebook pages has not been updated in a half a year.