This is how Islam traditionally creates an environment of intimidation to through street vigilantism in order to keep the people in line.
H/T: Fjordman
Death threats to secular bloggers are on the rise in Bangladesh. A few years back, hardline Islamists demanded a blasphemy law to stop bloggers they perceive to be anti-Islamic from writing about Islam. Secular forces in Bangladesh say that their views are under threat. Intolerance is growing as the country's politics increasingly diverge into secular and non-secular poles.
Bangladesh blogger Ananta Bijoy Das hacked to death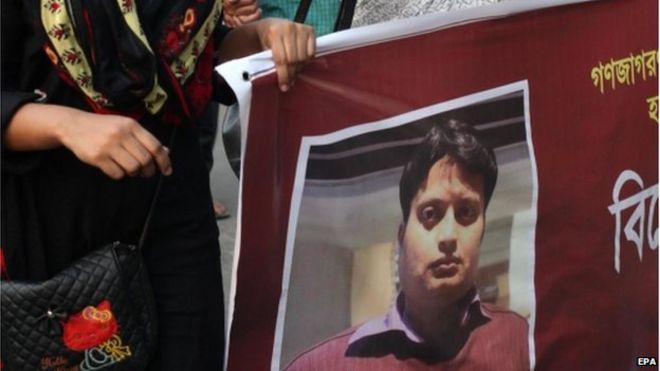 Ananta Bijoy Das was stabbed to death in the street – in daylight, on his way to work in a bank
A secular blogger has been hacked to death in north-eastern Bangladesh in the country's third such deadly attack since the start of the year.
Ananta Bijoy Das was attacked by masked men with machetes in Sylhet, police say. He is said to have received death threats from Islamist extremists.
Mr Das wrote blogs for Mukto-Mona, a website once moderated by Avijit Roy, himself hacked to death in February.
Sweden has confirmed it turned down a visa request from Mr Das in April.
He had been invited to attend a press freedom event by the Swedish Pen writers organisation but officials in the country's embassy in Dhaka refused the request, citing a risk he might not return home.
Swedish Pen told the BBC they were in the process of submitting an appeal when they heard of Mr Das's murder. The group has demanded an explanation from their government, the BBC's John McManus reports.