Obama foreign policy in full implosion mode.
Obama pushes ahead with summit despite Arab absences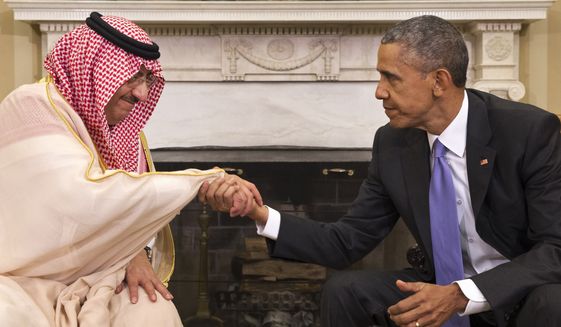 President Barack Obama shakes hands with Saudi Arabia's Crown Prince Mohammed bin Nayef during their meeting in the Oval Office of the White House in Washington, Wednesday, May 13, 2015. (AP Photo/Jacquelyn Martin)
Bahrain king skipped event for horse show
Despite the absence of key Arab leaders, President Obama forged ahead Wednesday with a summit of Persian Gulf states and said the U.S. is focused on deepening security ties in the region despite deep concerns about Mr. Obama's proposed nuclear deal with Iran.
Mr. Obama opened the summit by meeting with Crown Prince Mohammed bin Nayef and other Saudi Arabian leaders who traveled to Washington in place of Saudi King Salman. The Saudi leader joined the heads of Oman, Bahrain and the United Arab Emirates in skipping this week's gathering, which will continue Thursday with a series of meetings at Camp David.