Excellent comparison!
And these same halfwits who write these non-contextualized articles would throw Britain's greatest PM under the bus for his comments on Islam decades ago.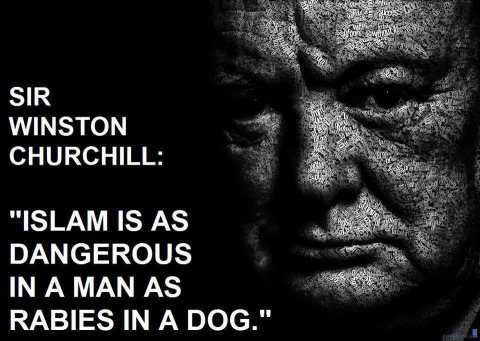 UKIP candidate circulates incendiary election 'address' comparing growth of Islam in UK to carbon monoxide poisoning
Magnus Nielsen is standing for parliament in the Hampstead and Kilburn constituency
Published: 2 May, 2015
By RICHARD OSLEY
NIGEL Farage and UKIP face difficult questions this weekend after the party's candidate in Hampstead and Kilburn published 'an address to voters' in which he claimed the country was being dominated by Islam with the 'silent and invisible certainty of carbon monoxide poisoning'.
Magnus Nielsen's incendiary 12,000 word essay, which he has handed out to voters and sent to newspapers, adds that he admires former English Defence League leader Tommy Robinson, and moreover that he believes the UK is at war with Islam.
He has already been seen making the latter claim in a video published in a Sunday newspaper sting.
Mr Nielsen, who has stood for Parliament in Hampstead twice before, said his views "should not be construed as necessarily reflecting the official current policy of the United Kingdom Independence Party".
But the divisive content of the essay will be uncomfortable for Mr Farage's party less than a week before it tries to win its first seats in the House of Commons at a general election.
More here. H/T: Buck