This is beyond parody.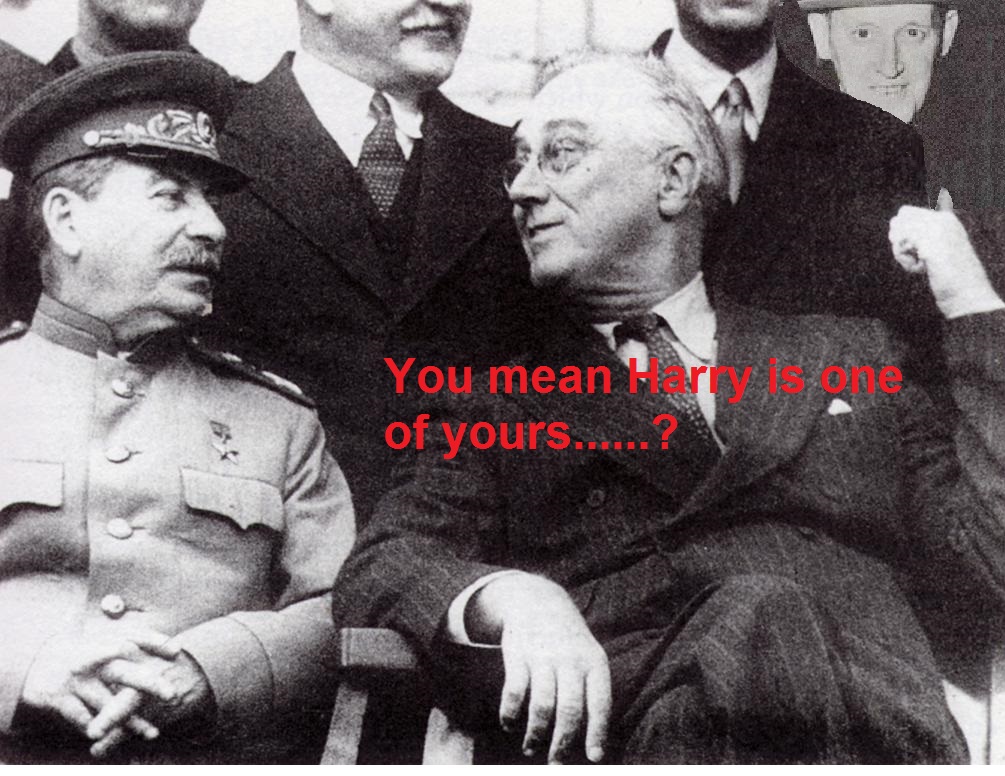 What's Their Problem?
What follows are brief extracts from the latest entry by Ron Capshaw — apparently, his fifth (5th) such sally. I have stripped his essay down to inferences and charges only.
This latest on American Betrayal is headlined:
"FDR, Truman, and Ike: Not Communists, Just Naïfs"
The inference, natch, is that American Betrayal argues that these presidents were "Communists."

NOT IN MY BOOK. (Readers of The Rebuttal: Defending American Betrayal from the Book-Burners, where this phrase repeats and repeats in highlighting some of the lies and fabrications that litter the original Rado-toxic mess, are invited to sing along.)

Now for the excerpts from Capshaw #5:

To get at the type of thinking that declared [FDR, Truman and Eisenhower] to be consciously pro-Soviet, you have to go forward a few years from the early 1950s to the days of the John Birch Society in the late '50s.

NOT IN MY BOOK.

It was this group — or, to be more specific, their leader, Robert Welch — that charged FDR with deliberately partnering with Joe Stalin against Hitler to advance the Soviet empire,

NOT IN MY BOOK

who believed Truman and his secretary of state Dean Acheson had deliberately led U.S. soldiers into a deathtrap in Korea thus again aiding the Soviet Union by depleting U.S. manpower;

NOT IN MY BOOK

and who accused Eisenhower, based on his attempts to negotiate with Khrushchev and his refusal to put ground troops into Vietnam, of being a Soviet agent

NOT IN MY BOOK

While dealing with McCarthy only peripherally, Diana West's American Betrayal dusts offthis view of FDR as a traitor

NOT IN MY BOOK

Diana West moves beyond merely defending McCarthy or portraying Roosevelt as naive to asserting a conscious treachery on the president's part.

NOT IN MY BOOK

Had [FDR] been the Communist portrayed by West …

NOT IN MY BOOK

Had [FDR] been the Bolshevik that West portrays him …

NOT IN MY BOOK

West makes great hay of the fact that FDR diplomatically recognized the Soviet Union. 

ONE TRUE THING FINALLY.

West uses FDR's decision to ignore Chambers' allegations as evidence of the Communist orientation of the administration.

NOT IN MY BOOK!!

West doesn't consider the implications of her view that D-Day was a communist plot.

NO! THIS THOUGHT EXPERIMENT about D-Day, Harry Hopkins and influence operations is minutely analyzed for its implications in American Betrayal, beginning in Chapter Nine, available free online here.

By West's lights, [Chambers and Orwell] could have been saps, tools, or — dare I say it — conscious traitors.

NOT IN MY BOOK OR "BY MY LIGHTS"

She also doesn't consider that Roosevelt might not have been pro-Soviet as much as simply naïve about Stalin —

NB: One might be a pro-Soviet dupe – but that's way too complex for this cabal.

Even more preposterous is her claim that Truman was pro-Communist

NOT IN MY BOOK!