Photo courtesy of Snaphanen via Twitter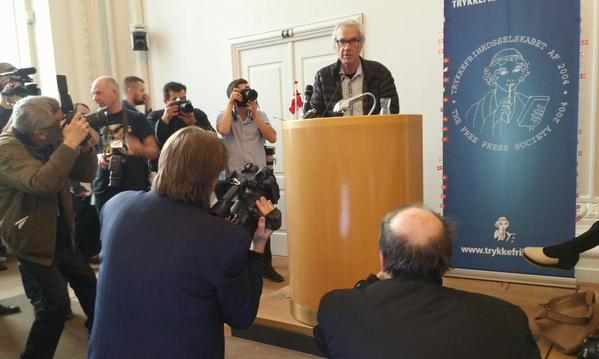 Lars Vilks receive Sappho Prize in Copenhagen on March 14
On 14 March – exactly one month after the terrorist attack in Krudttønden – facing Lars Vilks back to Copenhagen.
The reason is that the Free Press Society at an event assigns him the company's free speech award, the Sappho Prize.
The award ceremony will take place at Christiansborg and motivated by Naser Khader.
According to the Free Press Society, Katrine Winkel Holm, it Vilks' staunch fearlessness, which is the primary reason why exactly he will receive this year's Sappho Prize:
"In seven years, Lars Vilks lived with death threats and twice he has been tried murdered, just because. A single ink drawing.
The enormous pressure he live, would have many others to quickly mumble some excuses or bend your neck.The temptation is Lars Vilks never fallen for. On the contrary, he quietly continued to explain and defend his art and free speech. He deserves to be honored for – especially after the events of February 14 ".
The prize was awarded on Trykkefrihedsselskabets 10th anniversary is being celebrated with the release of the book First with the worst – Press Society for 10 years, edited by Mikael Jalving.