Faux outrage.
I agree with a comment at the Beitbart.com article, that what's really in question here is not a person really angry about the flag being used like this, but that it's a chance to harangue a member of the armed forces. It's more like that the same person voicing outrage wouldn't be so outraged if she was torching the flag, instead of cradling her newborn in it.
VETERAN TAKES HEAT FOR POSTING PHOTO OF CHILD CRADLED IN AMERICAN FLAG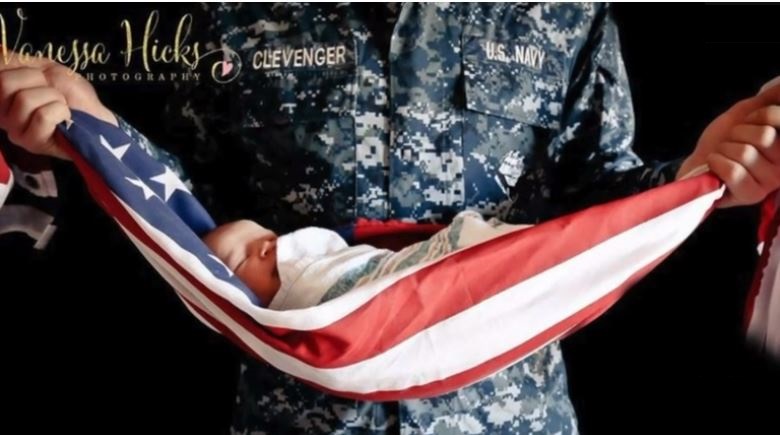 A photographer and Navy veteran took heat on Facebook this week after posting a photo of a friend and fellow veteran holding her infant child in a cradle made with an American flag.
Vanessa Hicks, a professional photographer from Virginia, posted the original photo to her Facebook page on March 8. In it, her friend and fellow veteran cradles his 8-day-old son, "Mr. Landon," with a rolled-up American flag.
"This time, he was wide awake for me!" Hicks captioned the photograph. "I couldn't wait to come home and edit these pictures!!"
However, the following day, a Facebook page titled "You Call Yourself a Photographer?" reposted the photo with a caption suggesting that Hicks had violated the U.S. Flag Code:
"The flag is not a prop. I repeat: THE FLAG IS NOT A PROP," the group wrote. "To use the American flag in such a way is disrespectful, rude, tacky, disgusting and against the U.S. Flag Code."