Trying to corner and derail the Israeli PM.
Once, the Democrat Party stood shoulder to shoulder with Israel, now it's only the GOP, and without its base of Christian believing supporters of Israel, they would be softening their resolve as well. The base of the party is the life of the party, and the Democrat base (the more vocal members) has already gone over the cliff.
"Black Christians love Israel," said conservative columnist Star Parker, who heads the Center for Urban Renewal and Education. "[T]he Congressional Black Caucus is 100 percent out of step with its own community and constituents with regards to Israel and the prime minister of Israel." Her organization is hosting

Thursday

at the National Press Club a group of black ministers — many of whom reside in CBC districts — in support of Mr. Netanyahu's speech.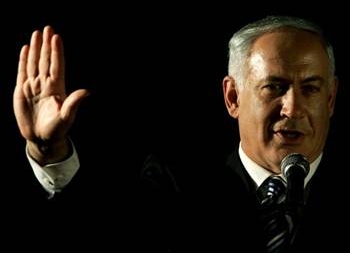 Netanyahu Turns Down Invitation to Meet Democrats
PM Netanyahu declines invitation from Senators Durbin and Feinstein to meet with Democrats during his trip to Washington next week. 
By Elad Benari  First Publish: 2/25/2015, 6:02 AM
Binyamin Netanyahu at Congress
Avi Ohayon/GPO/Flash 90
Prime Minister Binyamin Netanyahu has reportedly declined an invitationto meet with U.S. Senate Democrats during his trip to Washington next week, Reuters reported late Tuesday.
The invitation was extended on Monday by Senators Richard Durbin and Dianne Feinstein, who explained they invited Netanyahu to a closed-door meeting with Democrats "to maintain Israel's dialog with both political parties in Congress".
In a response letter to the two senators, obtained by Reuters, Netanyahu wrote, "Though I greatly appreciate your kind invitation to meet with Democratic Senators, I believe that doing so at this time could compoundthe misperception of partisanship regarding my upcoming visit."
Durbin and Feinstein's invitation to the closed-door meeting was madeafter weeks of quarreling between Democrats and Republicans over Netanyahu's Congress speech.
The invitation to Netanyahu to address Congress was extended by HouseSpeaker John Boehner, who did so without  consulting the White House or the Democrats, and later explained he felt it was important to do an end-run around White House "interference".
Democrats were outraged, with Democratic Senator Patrick Leahy saying he would not attend the speech and accusing Republican leaders in the House of Representatives of "unilaterally" arranging and politicizing Netanyahu's planned address.
Other lawmakers threatened to boycott the speech as well. House Minority Leader Nancy Pelosi said there would be no organized "boycott" of Netanyahu's speech, but she suggested some lawmakers might "be too busy to attend".
NOTE: Nancy Pelosi is despicable, and any Jew or Christian that votes for her and her party, has to do a lot of soul searching.